Williams scores 1,000th point
Lady Jackets 2-2 in Lebanon Tourney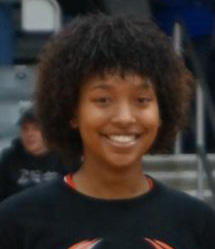 December 29, 2018
Filed under Sports
Hang on for a minute...we're trying to find some more stories you might like.
Destiny Williams scored her 1,000th career point in a 73-29 win over Cobden Dec. 20.
The Chester junior led the Yellow Jackets with 25 points.  Reese Chandler added 15 points, Kendall Williams 14 and Josie Kattenbraker 2.
The Lady Yellow Jackets opened holiday play in the Lebanon Christmas Tournament with a 59-49 loss to Carlyle Dec. 26.  Destiny Williams led Chester with 15 points and Kattenbraker scored 12. Kendall Williams scored eight, Alyssa Seymour seven, Reese Chandler five and Kailyn Absher two.
In the consolation bracket, Chester posted a 65-25 win over Steeleville Dec. 27. Destiny Williams scored 20 points and Kendall Williams 18. Kattenbraker tallied ten, Chandler nine, Peyton Clendenin four and Katie Shinabargar four.
Chester beat Du Quoin 48-47 on Dec.  28 and lost to Marissa 38-36 in the consolation championship. Marissa overcame a nine-point halftime deficit to win 38-36. Destiny Williams led Chester with 15 points. Kendall Williams scored ten. Josie Kattenbraker and Alyssa Seymour scored five each.