Life During a Global Pandemic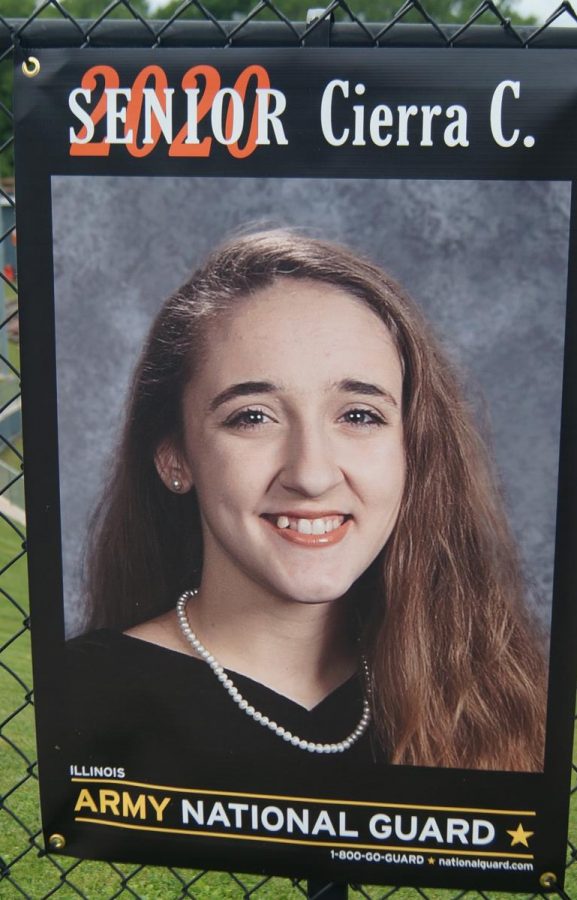 Cierra Creason, Rhetoric & Composition Student
May 13, 2020
The Coronavirus has taken over the world in a way most thought would never be possible. The Coronavirus is also referred to as COVID-19 and SARS-CoV-2, this being the scientific name for the virus. COVID-19 is the newest strain of the virus. Symptoms of COVID-19 include dry coughing, shortness of breath, fever, difficulty breathing, muscle aches, sore throat, loss of taste, loss of smell, headache, and diarrhea. The disease caused by SARS-CoV-2 is COVID-19, similar to how HIV causes AIDS. COVID-19 stands for Coronavirus Disease. 2019 was the year the virus appeared. After watching a show featured on Netflix titled Coronavirus: Explained, I learned that the virus is spread by droplets when someone breathes the air after someone has sneezed or coughed. COVID-19 can live on a surface for hours. Someone touches the surface then one's face and becomes infected. On average, one touches one's face about 20 times every hour. SARS-CoV-2 is the youngest of the human coronavirus family that includes HCoV-OC43, HCoV-229E, HCoV-NL63, HCoV-HKU1, MERS-CoV, SARS-CoV, and the newest addition, SARS-CoV-2. COVID-19 can be contagious without symptoms, meaning the virus can spread more easily. One can protect oneself from the newest coronavirus by social distancing and wearing a mask, especially when going to the store or another public place.
The coronavirus has infected many in my community. Society is in a panic at this time. There are currently over 100 cases of COVID-19 in Randolph County. Sadly, Don Welge, the owner of my Chester's Gilster Mary-Lee, passed away after contracting COVID-19. My high school closed when the governor of Illinois, J.B. Pritzker, ordered schools to close in late March of 2020. Schools being closed has made doing homework and socializing with friends very difficult. My senior class is currently unable to attend school, graduation, and prom. We also cannot see our friends. The class of 2020 did not even get to have complete high school experience. The class of 2020 tries to look forward to the future, although this is difficult considering we are not guaranteed to even be able to step foot on a college campus any time soon.
I never thought becoming an adult would be so frightening, but I also did not ever expect a global pandemic during my transition into adulthood. The feeling of knowing I may not be able to have a traditional first day of college makes me feel like I have been doing a large amount of work for nothing in return. Online schoolwork in high school is difficult enough as it is because I am not sitting with my peers nor face to face with a teacher or instructor. School gave me a set schedule where I would take my ADHD (Attention Deficit Hyperactivity Disorder) medication before school on the weekdays. My medication helps me focus a great amount, which helps me succeed and complete my assignments effectively. Without this routine, I have not been taking my medication regularly, which causes me to fall short of my own expectations of myself. I am no longer able to stay focussed as much as I was able to in a classroom setting. High school is basically over for the class of 2020, even though we did not get to cherish those special moments all high school seniors look forward to.
Senior prom is an event most high school seniors look forward to. One waits patiently to enjoy that night and make unforgettable memories with one's friends. Everyone feels somewhat isolated at this time. We are all upset, sad, angry, frustrated, or whatever emotion one chooses to feel at this depressing time. There is not any school, socializing, or actual feeling of high school concluding. As a senior, I will not get to have my graduation any time soon. 2020 graduation has been reduced to taking a picture with a "Class of 2020" sign that is in my front yard. Walking at graduation is an important milestone that one aspires to reach. Shaking the hand of the principle and knowing "I did it" is a feeling all in itself filled with joy and self-pride. We will not get that, at least not for many months. Some of us are not able to work. Personally, I am currently unavailable to maintain an income due to not being able to work. I am not able to work because I have individuals in my family with underlying health issues. My mother has a rare autoimmune disorder. Studies found that COVID-19 would not allow my mother to survive the disease. My grandmother has a severe health problem as well, COVID-19 would not show mercy on her either. These are scary times for anyone and everyone. Information changes daily while fear grows faster than one could ever imagine. All the class of 2020 wants is for things to be normal again. I almost feel as if I dropped out, but the reality has hit me that I am all this on my own. It is my responsibility to finish high school myself, no classroom, no teachers, no help from my classmates, just me.
The Southern Illinois University at Carbondale is offering virtual tours of the college. Personally, I had to do my college application as well as my math entrance exam online because I could not go onto campus. It is hard to be excited for much of anything during a time when almost all non-essential businesses and parks are closed and all events are being canceled or postponed for many later dates. Fortunately, I was able to register for my fall classes, which include psychology and a social work class. I am wanting to major in social work and minor in psychology. Social work is a passion of mine that I will be pursuing. I hope to help children who have become victims of abuse and hardship. My first semester of college will most likely be online. I will not be in a college classroom or with a professor. I will be on my own once again. Almost every high school senior looks forward to starting college and meeting a bunch of new, interesting people. The class of 2020 will not get to experience that milestone by the looks of how things are going with the coronavirus outbreak. Interacting with my classmates in a Google Meet setting is nowhere near the same as a college classroom setting, especially since most of my classmates do not attend the meetings on-camera. My mom and my good friend Amber have been my new teachers during this pandemic. I want to meet new people in person and walk around SIUC's campus feeling like I finally made it. Everyone wants a feeling of accomplishment. We have all worked so hard, for what feels like forever, to be handed our diplomas while all our family members cheer us on. The college will be even more difficult than any of us had anticipated considering we may not be able to go on campus first semester.
The class of 2020 will not get to have a full college experience. College is thought to be some of the best years of one's life. Unfortunately for this year's high school graduates, the college will not be the full experience it usually is for most students. Without being able to attend school, college really will not feel like college. It will seem like an extended high school or just more work to do online. Considering schoolwork will be online, one must push oneself to complete the assignments on time. One must be able to make one's own schedule rather than the school doing it for that person. This year's high school graduates are going to have to figure things out alone or together, but not too close together. During this troubling time, we must push ourselves to be more studious and responsible. The advantage to school being online at this point in time is that the class of 2020 will be more prepared for online college classes. We will have better time management skills than the previous years of college freshmen. At this time, we are learning to prepare for if this event were to happen in the future. We are currently learning how to handle a global pandemic, even though this is definitely not a very good time for a pandemic to be occurring.
With schools closed, children in abusive homes are stuck with their abusers. Children suffering abuse have no choice but to be stuck with those who hurt them, and they do not have school as an escape. Social workers are most likely required to wear masks before entering homes if they are even able to enter homes at all during the pandemic. School is a safe haven for abused children, a place where they know they will have lunch and friends to talk to. Being away from a dangerous environment is what these children look forward to. Without children having the guarantee of school lunch, schools in my district have started giving out school lunches to those who ask for them. Although handing out lunches by no means is the same safe haven as a school provides, it gives kids and teens in my area a full stomach.
Social workers are struggling a bit during this pandemic. There is no doubt that there is a PPE shortage at this time, especially for social workers considering they are not usually required to wear any sort of protection when entering a home unless there is a sick individual. One social worker, in particular, told me that the new procedures for entering a home are that the home health care worker must be wearing a mask and gloves to be able to enter a home. The mask and gloves should be removed after exiting the home followed by proper cleaning and sanitizing. With these added precautions, the chance of becoming infected with COVID-19 is much lower. With all these new changes, it may be hard for one to keep up, but one must find a way to embrace change.
The procedures and hours for almost all professions have changed. My college advisor's hours seem to have changed considering I sent an email to him in the late evening and he responded almost immediately. He surprisingly continued to email me back and forth until around 11 p.m. I found him to be very helpful. He advised me in getting my classes lined up so that I can pursue my career in social work. Social workers and therapists are doing meetings over the phone as well. Even doctors are doing appointments over the phone, I found this out when my own doctor contacted me over the phone after I canceled my appointment due to COVID-19 being present in his area. Thankfully, our nurses and doctors are doing everything possible to keep the world healthy. Those working in the medical field are our heroes and they deserve an enormous amount of respect as well as gratitude. These medical workers are people we should look up to because even when everyone is afraid, these people remain resilient and readily available. When one cannot be strong, one must rely on those one loves the most to ease the mind during this fearful time.
Thankfully, we have our family members to spend quality time with. Times are tough, but we must all figure out our own way to cope and enjoy our time even if it feels like wasted days or weeks. At this point in time, things are quite difficult to talk about, but eventually, the words come out. There is an almost deafening silence throughout the world right now. No one is out; everyone is apart. Soon, we will be able to socialize once again without fear of COVID-19. Hopefully, a vaccine will be available in the near future. Fear and sadness aside, this pandemic is a learning experience for all people around the globe. We are figuring out ways to stay connected, such as FaceTime, Google Meet, Zoom, Snapchat, and Facebook. From all this, we can learn to always be prepared. I personally plan to have an adequate stockpile for my family to use in the event that history repeats itself once again. Although I will not get to ever have that feeling of high school being complete or college fully beginning, I am thankful for all the memories I have already made and will continue to make in the future. Life goes on even when it feels like the end of the world. This pandemic will not stop the class of 2020. We will persevere even when we feel like we cannot go on anymore. Nothing lasts forever. The storm eventually stops and things go back to normal.
Works Cited
"Coronavirus Disease 2019 (COVID-19)." Centers for Disease Control and Prevention, Centers for Disease Control and Prevention, www.cdc.gov/coronavirus/2019-ncov/index.html.
"Coronavirus Disease 2019 (COVID-19)." Illinois Department of Public Health, , 2020, www.dph.illinois.gov/covid19.
"Coronavirus: Explained." Netflix, 2020, www.netflix.com/title/81273378.
"Southern Illinois University Virtual Campus Experience." Southern Illinois University, 2020, siu.university-tour.com/.
"Summary of the HIPAA Security Rule." HHS.gov, US Department of Health and Human Services, 26 July 2013,
"What Is Coronavirus?" Johns Hopkins Medicine, www.hopkinsmedicine.org/health/conditions-and-diseases/coronavirus.