Senior Markets Mask Holders
This past summer has been far from normal. Many teens are thinking of all the things they wish to do when they grow up, all the adventures they want to go on, and all the things they cannot wait to see. I never would have thought I would be experiencing a pandemic at the age of 17. This adventure is definitely not on my list of things to do. It is sad to think of all the activities I have missed out on and had to cancel these past months due to the pandemic. I decided that instead of wasting the long days away, I would use my time wisely and do something for the people and community around me. I chose to start my own small business making mask holders and selling them to friends and family.
This whole idea came about when I asked for a computer-generated machine called a Cricut for Christmas this past year. A Cricut machine allows one to generate designs on a computer and then cut vinyl that will adhere to any kind of surface. I planned to customize and DIY a few projects I had at home. I told myself I would not be customizing items for other people simply because I am way too OCD and the piece would never turn out "perfect" for the customer. I continued making projects around the house from coffee cups to t-shirts — one being customizing my home's mailbox with our address and last name initial. This was a fun way to update our landscaping and make our home stand out from the others in the neighborhood. Ultimately, this snowballed into two of my neighbors approaching me and asking if I would 's customize some things for their landscaping. One wanted a sign with the family's last name on it, and the other family asked if I would customize their mailbox for them. Remember before how I promised myself I would never make something for someone else? I threw that idea out the window and decided to do something nice for my neighbors. Not long after that, a close family member saw a cup of mine I had customized with my favorite sports teams on it. She proceeded to ask me if I could make her a couple of customized mask holders. Definitely something I never dreamed the world would be in need of, but I told her I could make some for her. I went to the store the next day and bought the supplies I needed and a few extras, too. We created the design she wanted on the holders, and within a few days, I delivered them to her. They turned out awesome! She loved them so much that she asked me to make her more as gifts for a few of her family members. I realized that this product had become a real need with the pandemic threatening my community. I rushed to the store and stocked up on vinyl and every color mask holder I could find. I started to outreach to more people and began selling the mask holders, and that is how my small business was born!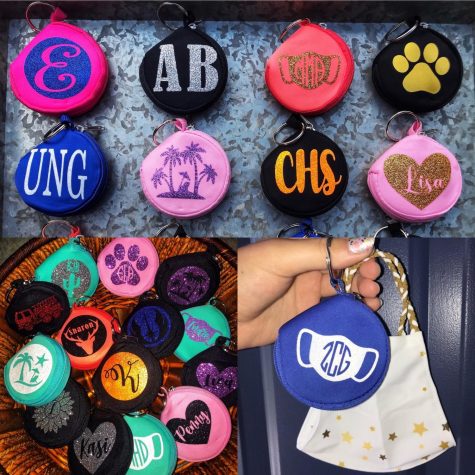 Not long after posting about my new small business and the product I was selling, many orders started flooding in. One special order I received was from my aunt, and she asked if I would make a mask holder for her daughter. She starts preschool this year, and my aunt wanted her to have something to keep her mask in that was easy for her to access at any time. We worked together on a design that would match her new backpack perfectly! We chose a seafoam-colored mask holder and pink vinyl. I helped her design a mask logo with her daughter's name on the inside of it so her teacher would know where to find her mask while she is at school. This allowed my aunt to have peace-of-mind knowing that her daughter would always have her mask with her and that when it was not in use it would stay clean. When I delivered the mask holder to my aunt, we put it on her daughter's backpack and showed it to her; she loved it! My aunt and I talked about what an odd preschool year she would experience and how crazy the world is right now. She told me she was delighted to have something that she and her daughter could look back on and remember a time where they lived through a pandemic. It's not every day one gets to say one lived through a world crisis like this one and during these times such a simple thing can mean so much to someone. Starting this small business has meant so much more to me and those around me than I ever thought possible. I am incredibly grateful to get to provide a simple act of kindness and goodness to those around me.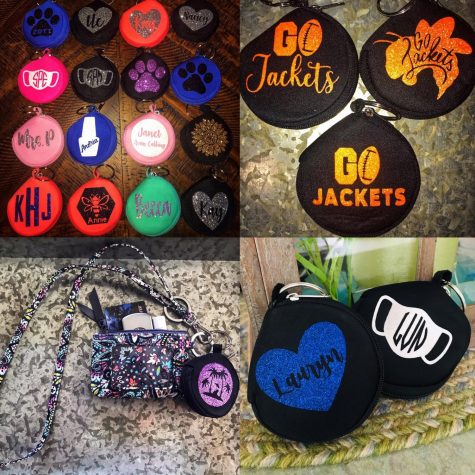 Starting my own business has taught me many things. I have maintained very organized throughout the entire process. When I started my business, I received an influx of orders within the first few weeks. To remain on top of things, I organized my orders in a notebook with columns to ensure the orders would be made correctly with the right colors and designs. Time management is another important aspect of running a business. I made sure I kept up-to-date on orders and allowed enough time out of each day to work them. I wanted to make sure the mask holders were pristine and in the customer's hands as soon as possible. I did some research to find the right price point to charge customers. This taught me how to manage my money. I chose to use some of the money to buy more vinyl color options for my customers and put the rest into savings. To continue making sales, I had to make weekly posts on social media accounts and share what my product was all about. To ensure safety, I did not share any personal information besides my name, and I always met the people I did not know at a public place in town. I wore my mask and remained 6 feet apart from the customer at all times to ensure health safety regulations, as well. A major part of running a business is to always remain patient and kind throughout the entire process. Not only do people appreciate kindness, it makes the process run smoother. I made sure I could always be available to the customers if they had any questions or wanted to meet at a certain time. Running my own business has taught me many valuable lessons, not only about business but also about life.
This entire process has helped me grow as a person. I was able to step out of my comfort zone, use my time sensibly, and do something nice for my friends, family, and those around me. By creating a unique, easy-to-use mask holder, I hope that more people will choose to wear masks when entering a public place. No one planned for a pandemic, but together we can defeat it. My wish is that this small gesture will have a big impact.