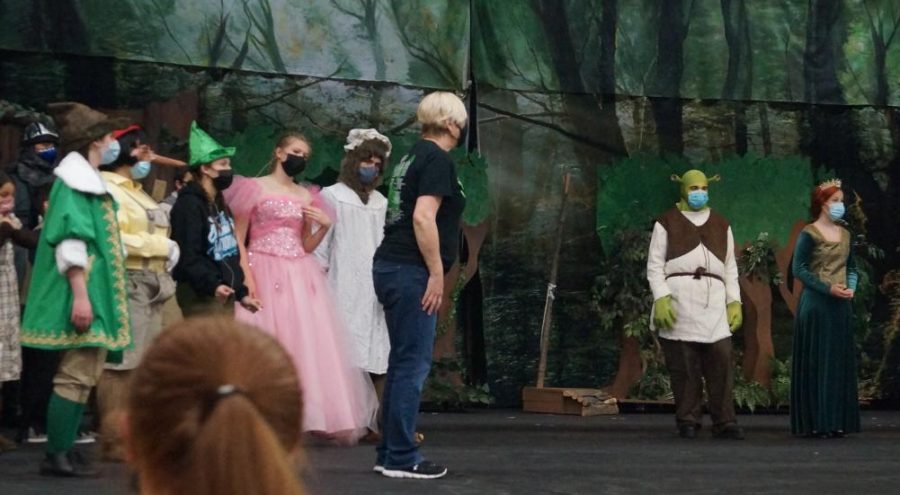 As we all know, there are multiple faculty members leaving Chester High School at the end of this school year. Mrs. Coop is retiring after many years at CHS while Mr. and Mrs. Norman, Mrs. Petrowske, and Mr. Blechle will all be going to other schools. This year has been very rough for everyone, and the additional loss of teachers definitely will not help next year. This article is a chance for everyone to read teachers goodbyes all in one place.
The only teacher retiring this year is Mrs. Coop, who teaches business and computer classes. She has worked at CHS for many years, and has also put on a theater production at CHS for as long as I can remember. Mrs. Coop definitely deserves this retirement, and she will be thoroughly missed. When asked if she wanted to tell the students anything, she told me this, "I will miss CHS and all of the students terribly. But I am looking forward to spending more time with my 4 grandchildren." Everyone at CHS hopes you enjoy your retirement!
Mr. and Mrs. Norman both are leaving CHS to teach at Murphysboro. Mrs. Norman, who teaches English, has been a valued member of the CHS faculty. Mrs. Norman had the following to say: "Leaving Chester has not been an easy decision for our family. We have made Chester our home over the last 6 years… We are fortunate to have the opportunity to be working in the same district while being closer to our loved ones. With this move, I have also decided to adjust my sails and switch over to the other side of my degree… I'll be using my Learning Behavior Specialist endorsement to be a part of the Special Ed Team in Murphysboro. I'll be co-teaching Chemistry, Biology, and Math 2 at MHS. This will give me the opportunity to learn and grow more as an educator. I've always loved science, so I'm pretty excited about the opportunity. The move will be a big adjustment for all of us, Brad, myself, and of course our two boys. Kazden will be entering 2nd grade and Myles will be in his second year of Pre-K. We are thankful for the support and friends Chester has given us."
Mr. Norman has been an amazing coach during his time at CHS and he will be missed. He released a statement to the public saying the following: " When I was asked to take the teaching/coaching position at Chester High School ten years ago, I was overwhelmed with excitement and determination. I knew this was a place I could call home. What I did not realize was how great of an experience it would become…This opportunity will allow us to be closer to our immediate families, and also give me a chance to continue my coaching career…Thank you to the fans, community, Chester School District, parents, media, former and current players. You all will forever hold a special place in my heart. As we say goodbye, remember that the Norman family will always love you."
Mrs. Petrowske is also leaving CHS this year. She has been working at CHS for 10 years, and has taught so many different classes — family, culinary and job preparation — that are very valuable for students in the real world. She released a statement as well to tell everyone why she was leaving. " My students are the heart and soul for what I do as an educator and as a student myself. You are my reason and purpose for continuing on my PhD journey and for wanting to be not only a better educator, but a better person. Over the course of my 10 years at Chester High School I have had the pleasure and the honor of not only teaching, but being taught myself what it means to be hard working, persistent, passionate for a cause, compassionate to others, and so much more—for these memories I will forever be grateful and will hold dear to my heart. This decision was not an easy one, and I have lost much sleep and shed many tears over the thought of leaving you—my kids. I feel, however, that in order to fully pursue my goals and my future in education, sometimes making hard decisions and getting out of the comfort of home is necessary. I pray that you take this lesson to heart and let it guide you as well, seeing as someday I have no doubt each and every one of you will have to make a decision as difficult as the one I am currently making." She is leaving CHS to work at Benton Consolidated High School.
Mr. Blechle is also leaving CHS at the conclusion of this school year. He has been the CHS vice-principal for the past 4 years. Mr. Blechle was hired by the Columbia school district to become Columbia High School's next Assistant Principal.
"While I am very excited for this new journey in my professional life, this decision was the toughest one I have had to make during my career in education," he said. "The amazing people of CHS have captured my heart and my soul. Working for you has been the most rewarding job I could ever ask for. I honestly never felt for one moment I was working in my 14 years at CHS and this is because of the loving staff, students and all others that make up this great district. For this I say thank you. I regret that this announcement could not be made in person, and for that please accept my apologies. Time is something that we all need more of and who am I to take any extra of it from you. It may also be that because of the impact all of you have had on my life, my emotions may be getting the best of me. I have yet to master the art of showing my sensitive side publicly, so for that this email will have to do. My promise to you is that even when I move to the next chapter of my career, I will still be there for you at any time you may need me. This is not goodbye forever, just a small change in our professional life. From the bottom of my heart, THANK YOU for everything my dear CHS family."