Journalists Offer Insights On Profession, Education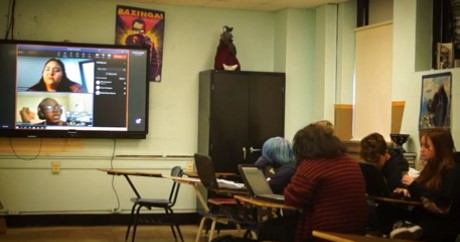 On Wednesday, May 3rd, Mr. Springston's Journalism class had an online Microsoft team meeting with two great Chicago Journalists for the students to interview and get a better understanding of how being a journalist works and to better their abilities to provide in-depth details for our school newspaper.
There were two journalists that joined the meeting to provide useful information. These journalists were CJA secretary Rachel Hinton, who is an enterprise reporter with the Better Government Association, and Amaris Rodriquez, an education reporter for Growing Community Media. Rodriquez mentioned that she just got into this line of work, and she has already made so much progress and also has learned so much in such little time.
The students asked many great questions, to which the journalists responded with very useful information. Student Ace Smith asked the journalists, "What is a big issue in your line of work?" Rodriquez answered with, "There are a lot of journalists moving from state to state to find better wages." She mentioned that in Illinois it can be hard to find good wages in a Journalist job. Being a Journalist can take up a lot of time, so having a good wage can make it worth their time in the end. They both also mention how there are not many young journalists today due to that same issue.
A question asked by student Bethany Baughman was, "What are the issues with education in Illinois?" Rodriquez stated, "It all depends on where you are, the resources in your community. You could have a good education that places you ahead of the path but there are a lot of students that aren't fortunate to live in those communities. Their education is suffering and it's not looking super good as of now." Hinton also mentioned, "I really hope things get better for our education system, but I just don't see any big positive changes happening any time soon." Due to the way schools are in our education system, they aren't preparing the students for the real world.
In the end, the two journalists really introduced a lot of information for the students to help increase their writing skills. I think that these types of interviews can really overall help us learn about the education system that is running today.