Remembering Brandon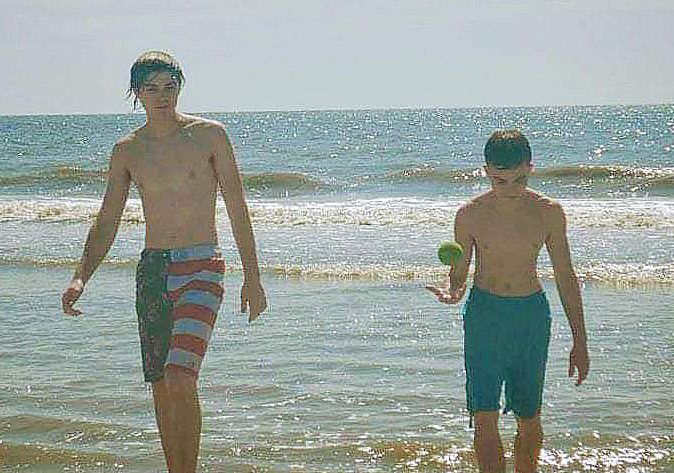 This article is not to make you feel sorry or sad; it is meant to make you happy and remember to always live today like there is no tomorrow.
The memories I have with my brother range from going to New York to playing baseball together, or even working on a farm together in the hot summer heat. I cannot possibly put into words my time with him, but I can tell you about one of my favorite memories with him: our trip to Georgia.
My brother and I were invited to Georgia to see our family. We happily accepted the offer. Our older sister and our three nieces were going to Georgia, as well. Before we left, Brandon and I went to Walmart to gather the essentials: chips, soda, and cereal. Since Georgia is a long car ride, we all took turns driving every few hours. It was a great learning experience for the both of us. Given we had three babies and our sister in the car, we must have stopped at least ten times before we arrived to Georgia. 
Once we arrived it was night time and we weren't able to see the beach. As unfortunate as this may sound, it was more of a blessing since we were all exhausted
We stayed in a house about five or so miles away from the beach. Brandon and I stayed in a room; my sister and nieces stayed in the other. Being the annoying twin, I started to sing and dance till Brandon started throwing the pillows and blankets at me. 
The next morning it wasn't long till Brandon and I were ready for the beach. We ate a nutritious breakfast that consisted mostly of Frosted Flakes and Coca-Cola.
We arrived at a parking lot that was surrounded by brush and palm trees. There was a small opening with a walkway straight to the sand. Our nieces couldn't hold themselves back from running toward the beach so Brandon and I had to carry everything to the shore. The two of us probably had the most fun out of all the people we were with because our only rule was to stay in sight. We both swam as far as we could until we found a sand bar so we could stand up. Out of nowhere a group of dolphins started swimming about twenty feet from us. We didn't attempt to chase them because we both knew there was no point in doing so. We started playing catch on the sandbank. We splashed the water after a throw just to prevent each other from catching the ball. 
We wanted to get some shells as souvenirs before it was time to go so we both swam back to shore and started the search. We found many broken shells but nothing that looked satisfying enough to take home, so we settled for a handful of cool rocks we found. 
We returned back to the house we were staying at and almost instantly fell asleep. The next morning we packed everything up and began our journey home. This trip seemed shorter than the trip down probably because I slept most of the time. Brandon and I drove about eight hours each, exchanging every four hours. It was also shorter because we only stopped two or three times.
Once we arrived home we unpacked and talked about making another trip down there before we graduated.
That concludes our trip to Georgia. And to end this story, I would like to say again to always live today like there is no tomorrow. In loving memory of Brandon Schwier.
Editor's note: Brandon Schwier, Chester High School Class of 2020, died in a car accident over the summer.