James Wins BDC Title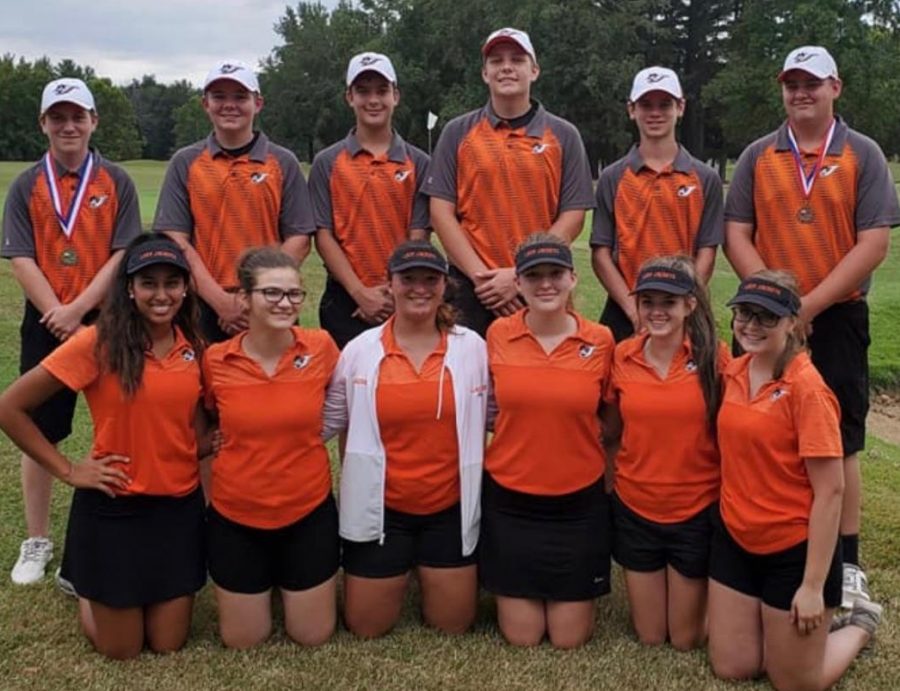 Jarrett James shot a 71 to win the Black Diamond Conference Tournament Sept. 25 at Franklin Country Club in West Frankfort.
The Chester team placed second with a score of 327. Carmi won with a 308.
Jaden Mott also earned all-conference honors for Chester by shooting 78 and tying for eighth.
Kaden Freytag shot an 86 and Chett Andrews 92.
The Chester girls placed sixth with a 454.
Individual scores were Samantha Eggemeyer, 104; Alyssa Place, 109; Emma Hathaway, 117; and Jocelyn Landeros, 124.
9/18
Chester lady Jackets went to Red Bud last Wednesday. They shot a 242. Alyssa Place lead the team with a 59, Emma Hathaway 59, Jocelyn Landeros 62, Sam Eggemeyer 62, Maddie Hasemeyer 68, Kayla Bert 68. Red Bud shot a 221. The Lady Jackets have improved throughout the year. 
9/23
Chester boys defeated Sparta and New Athens. The boys golf team traveled to Sparta. CHS was led by Jarrett James 36 low medalist, Chett Andrew's 40, Jaden Mott 45, Kayden Freytag 46, Reed Welborn 49, and Luke Miller 50. The team score was a 167. Sparta shot a 187. New Athens got a 173. 
10/3
The Chester golf team traveled to Anna-Jonesboro for a match on Thursday. Chester scored a 177 and AJ scored a 167. Jarrett James 38, Chett Andrews 44, Kaden Freytag 47, Jaden Mott 48, Luke Miller 50, and Chance Mott 56. The boys travel to play in the Regional match on Monday. The girls were led by Sam Eggemeyer with a 56, Jocelyn Landeros 59, Alyssa Place 62, Kayla Bert 62, Emma Hathaway 69, and Maddie Hasemeyer 70. They play the Regional match on Thursday.