E-Cycle Drive Moving To Grade School
Fee Charged For Televisions
Jaci South, Sting Editor & Reporter
October 22, 2019
The Chester High School Rhetoric and Composition class will be hosting an E-Cycling Drive 9 a.m. to noon on Saturday, Nov. 2, at the Chester Grade School parking lot.
This is a vital service to the community as Illinois prohibits disposal of electronics in landfills.
The event is free for the disposal of most electronics, but please note there is a fee incurred of $5-35 to recycle CRTs, Projection, Plasma, Flat Screen, and Console TVs; $5-15 fee for each CRT monitor not accompanied by a tower, and a $2.50-10 fee to recycle flatscreen computer monitors. Other restrictions include light bulbs, explosives, batteries, smoke detectors, hazardous materials, etc.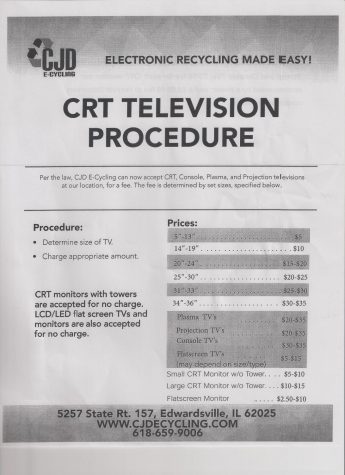 Accepted Items (including but not limited to): 
CRT, Projection, Plasma, Flat Screen & Console TVs (fees of $5-$35)

CRT monitors (fees of $5-$15 when not accompanied by tower)

Flat Screen Computer Monitors ($2.50-$10 fee)

Computers, printers, cables and peripherals (keyboards, mice, etc.) 

Fax machines, scanners, digital converter boxes, cable & satellite receivers 

Networking equipment, server, telecommunications, phones, cell phones, etc. 

Home electronics, air conditioners, humidifiers, blenders, toasters, irons, etc. 

Home appliances, refrigerators, washing machines, dryers, ovens, etc. 

Video game consoles, digital video disc player/recorders, portable digital music players 

Non-ferrous metals, metal office furniture (Metal Desks/File cabinets, etc.) 

Car and rechargeable batteries and lead items 

Old motors, non-PCB type ballast, transformers and other electrical equipment 

Medical equipment and all types of diagnostics equipment. (Call (618-659-9006 to verify equipment)

Industrial machinery and equipment (including power and gas equipment) 

Electrical, cabling, communication machinery, and equipment 

VCR, stereos, and audio/video equipment (including cable/satellite)
Will Not Accept (including but not limited to): 
Additional charges may apply if any items below are collected during the drive 
Alkaline Batteries 

Light Bulbs 

DVD's, VHS's, CD's or Cassette tapes 

Radioactive Materials & Flammable Materials

Hazardous Materials (Oil/Antifreeze/Paint) 

Household Smoke Detectors 

i.e.  Smoke, Gas, or carbon monoxide ($10/piece charge will apply)
Non-Electronics (tires, wood, office waste, furniture, fiberglass, insulation, Roofing or Dirt)

Explosives (Firearms/Ammunition/Shells) 

Prescription medication, over the counter drugs, or illegal drugs within any equipment 

Devices containing mercury 

Equipment containing: asbestos, radioactive components, infectious, or pathological wastes 

Other Hazardous Materials (Pesticides/Oil Filters/ Air Bags/Lead/Mercury Switches)
The drive was originally scheduled at the high school parking lot but has moved to the grade school as an accommodation for the first round playoff game between Chester and Auburn.
CJD E-Cycling will be providing the recycling services. A special thanks to Illinois Education Association, the City of Chester, and Randolph County for providing grants to help put on the event, as well as to Gilster-Mary Lee for providing a forklift for the event.