Lady Jackets Win Sparta Invite
Chester 5-1 After Loss At Vienna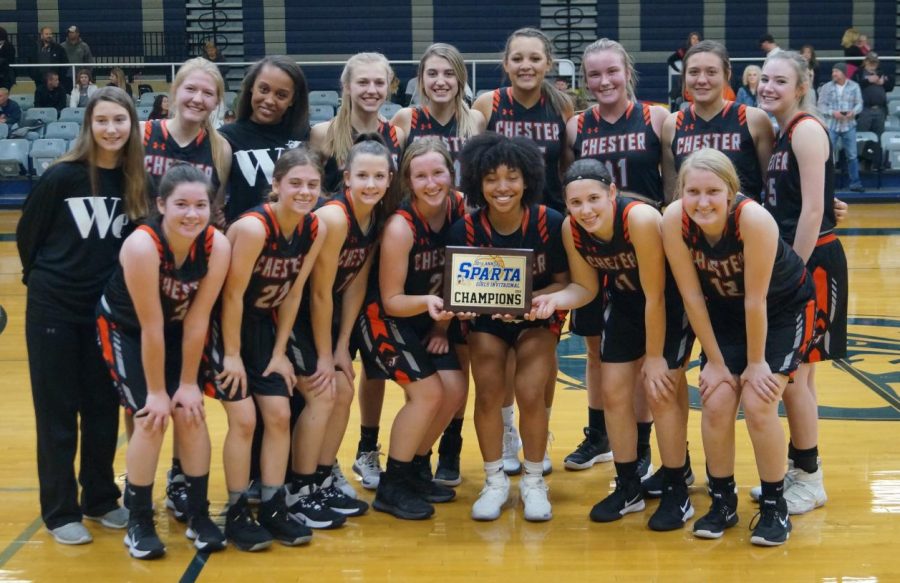 The Chester Lady Yellow Jackets enjoyed a 4-0 run through the Sparta Invitational to capture the title on Nov. 23.
Chester clinched the title with a 76-44 win over Steeleville. With the win, Chester completed a sweep of every team in Randolph County. Chester opened a big lead and relied on a strong performance from its bench in the second half. Camryn Howie and Torre Berger led Chester with 15 points each. Peyton Clendenin scored 11 points and Ashlyn Colvis ten. Destiny Williams and Josie Kattenbraker tallied six each, Kendall Williams and Trinity Brown four each,  and Alyssa Seymour and Katie Shinabarger two each.
Earlier Saturday, Chester had its closest game with a 44-38 win over Trico. Destiny Williams scored 16 and Brown 14. Kendall Williams scored six and Reese Chandler, Kattenbraker and Seymour two each.
On Friday, Chester pounded host Sparta 67-26. Destiny Williams paced the Lady Jackets with 19 points. Kattenbraker scored 14 and Chandler 13. Kendall Williams scored six, Seymour five and Brown four. Berger, Colvis and Audrey Hopper tallied two each.
Destiny Williams, Kendall Williams and Reese Chandler were named to the all-tournament team.
The Lady Jackets improved to 5-0 with a 64-34 win over Sparta on Nov. 25.
Destiny Williams scored 18, Trinity Brown 13, Kendall Williams ten, Josie Kattenbraker six and Reese Chandler five.