Sting Staff Views Iconic Photos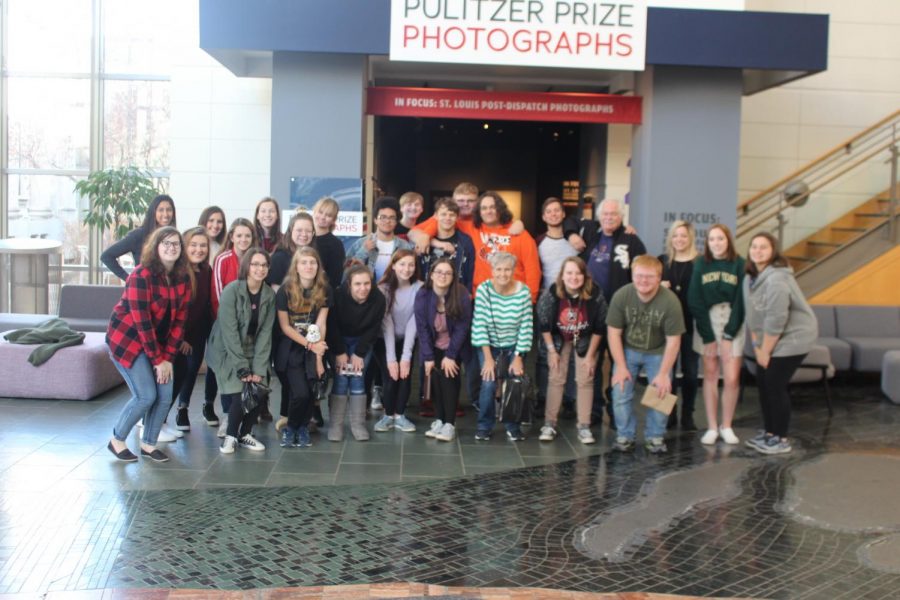 The CHS Sting took a field trip to the Saint Louis History Museum on Dec. 5. Originally, the trip was to see the museum's exhibit on Pulitzer Prize-winning photographs. The exhibit was very informative, and there were several pictures that are not well known. For example, there was a picture from the 1944 World Series where the Saint Louis Browns faced off against the Saint Louis Cardinals. Yes, Saint Louis at one point, had two major league baseball teamx.
They also had the iconic picture of the Marines raising the flag on Iwo Jima. They also had a picture of a Cub Scout putting out flags on veterans' graves in 2011 at Jefferson Barracks National Cemetery. That picture in particular hit hard for me. They also had a picture of a firefighter carrying a baby from the Oklahoma City Bombing. That picture is just…… there are no words to describe how that picture made me feel.
However, to one person in our group, that picture resonated hard. That person was Ms. Grau. Ms. Grau is a veteran, as was her husband. At the time of the bombing, she was stationed at the local military base about two miles away. When I questioned her about her being a first responder to the incident, Ms. Grau replied, "No. My husband was in Korea and I was on the base two miles away. The explosion was so strong, it shook the entire base."
Also while we were there, there was a section of questions on the wall with little cards you could fill out, answer, and put on the wall. I do not know if anyone else filled one out, but I sure did. The questions were: "Do you remember any of the things pictured?" "How do you feel differently about them now versus when you first heard about them?" "Is photojournalism still relevant today with social media?" Personally, I answered the question about remembering the events. There was a picture back in 2006 about the tornadoes that swept through the area. I remembered them because I was in kindergarten at the time, and we were let out of school early due to the incoming tornadoes.
All in all, I think this field trip was a success, and that the CHS Sting should take more field trips like this so that young people can learn about the many different events that, unfortunately, go unsung.