Lady Jackets Win LJMWC
The Chester Lady Yellow Jackets defeated Marissa 49-30 on Jan. 11 to win the Lady Jacket Mid Winter Classic Basketball tournament
Destiny Williams was named tournament MVP. Reese Chandler and Kendall Williams were named to the all-tournament team.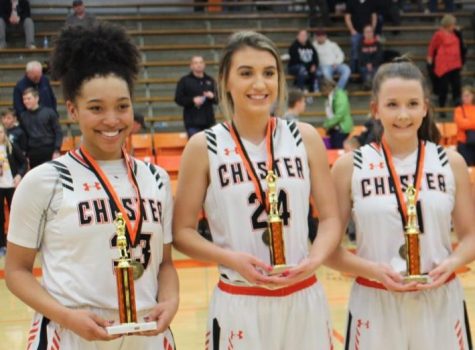 Against Marissa, Destiny Williams led Chester with 26 points, including three three-pointers. Kendall Williams scored nine points and Trinity Brown four points. Camrynn Howie and Kailyn Absher scored three points each. Reese Chandler and Alyssa Seymour scored two points each.
Chester was 14-of-14 from the free throw line in the second half, making all nine foul shots in the fourth quarter. Destiny Williams was five-for-five from the charity stripe and Brown scored all four of her points at the line.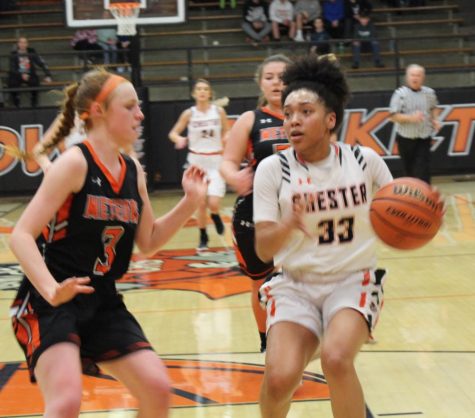 The Lady Jackets advanced to the title game with a 62-29 win over Sparta.
Destiny Williams scored 12 points and became Chester's all-time leading scorer.
Reese Chandler sank four three-pointers and led the Lady Jackets with 21 points. Kendall Williams scored 11 points and Josie Kattenbraker eight. Camrynn Howie tallied three points, Audrey Hopper, Alyssa Seymour and Katie Shinabargar two each and Trinity Brown one point.
Chester will play Marissa-Coulterville at 8 p.m. Saturday in the title game.
The Chester Lady Yellow Jackets jumped out to a 33-0 lead after the first quarter on their way to a 60-8 win over Valmeyer on Jan. 7 in the first round of the Lady Jacket Mid Winter Classic Basketball tournament.
The win advances Chester to a semi-final game at 7:15 p.m. Jan. 9 against Sparta. Sparta beat Trico 60-42.
In its win, the Lady Jackets made as many three-pointers as Valmeyer had total points — eight.
Destiny Williams led Chester with 13 points, draining three three-pointers. Kendall Williams scored 11 points and Trinity Brown nine. Reese Chandler scored her six point on two three-point baskets. Torre Berger tallied five points, Kailyn Absher and Alyssa Seymour had four points each and Josie Kattenbraker three points. Camrynn Howie and Peyton Clendenin scored two points each and Audrey Hopper sank a free throw.