Lady Jackets Take 5th At Lebanon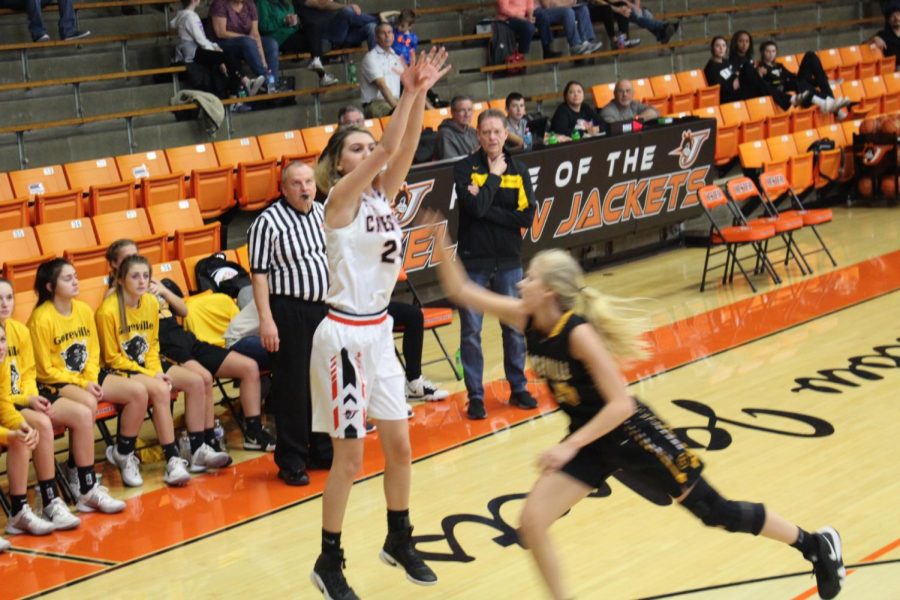 The Chester Lady Yellow Jackets defeated Waterloo Gibault 46-42 in the fifth place game of the Lebanon Girls Christmas Tournament.
Destiny Williams led Chester with 17 points. Trinity Brown scored nine. Alyssa Seymour tallied seven points and Reese Chandler five points. Josie Kattenbraker and Kailyn Absher scored three points each and Kendall Williams netted two points.
Chester had an offensive letdown as they fell to Marissa-Coulterville 35-29 in the quarter-final round of the Lebanon Girls Christmas Tournament.
Chester jumped out to a 14-5 lead after the first quarter but failed to reach double figures in any quarter after that. The Lady Jackets held a 26-25 lead entering the fourth quarter but were outscored 10-3 in the final frame. Chester was only four of 11 from the free throw line, while Marisa made eight of 15 foul shots.
Destiny Brown led Chester with 14 points. Destiny Williams scored seven points. Reese Chandler and Alyssa Seymour tallied three points each and Kendall Willams scored two points.
Chester beat Gateway Legacy 49-44 in the fifth place semi-final game.
Kendall Williams led the Lady Jackets with 12 points. Reese Chandler scored ten points, Destiny Williams nine points, Trinity Brown eight points, Alyssa Seymour seven points and Josie Kattenbraker three points.
Chester opened tourney play with a 57-27 win over Carlyle.
Josie Kttenbraker led Chester with 13 points. Alyssa Seymour scored ten points and Destiny Williams nine. Resse Chandler tallied eight points, Trinity Brown five and Peyton Clendenin four. Audrey Hopper, Camrynn Howie, Kendall Williams and Ashlyn Colvis scored two points each.
Before the holidays, Chester lost to Goreville 58-53 on Dec. 21.
Playing their first game in 11 days, Chester fell to 1-2 in conference, 9-3 overall.
Trinity Brown led Chester with 13 points. Reese Chandler tallied 11 points. Destiny Williams and Josie Kattenbraker scored eight points each. Alyssa Seymour scored seven, Kendall Williams five and Audrey Hopper one.