Jackets Defend CIT Title
Chester Defeats Waterloo in Double OT
Andy Bryant & Serenity Morrison
It took double overtime, but the Chester Yellow Jackets successfully defended their Chester Invitational Tournament (CIT) title with a 50-47 win over Waterloo.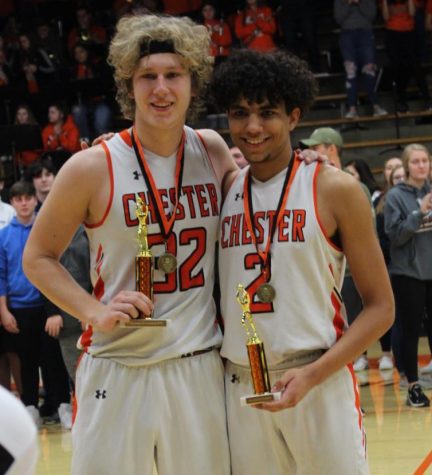 Ian Reith, the tournament MVP, led Chester (12-7) with 18 points. DeOndre Martin was also named to the all-tourney team. He scored 11 points. Matt Korando was also in double figures with ten points.
Chett Andrews returned to the lineup after injuring his wrist in the second game of the season. Andrews contributed a three-pointer at the buzzer at the end of the third quarter to extend Chester's lead to 32-26 before Waterloo's fourth quarter comeback. He ended with six points on both of Chester's three-point baskets. Jordan Hughes scored three points and Jared Landeros two.
Chester advanced to the championship game of the Chester Invitational Tournament with a 62-47 win over Saxony Lutheran on Jan. 16.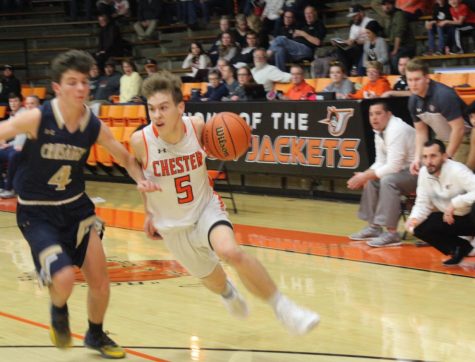 Ian Reith led Chester with 22 points and DeOndre Martin scored 18 points. Jared Landeros also was in double figures with 11 points. Matt Korando contributed five points and Jordan Hughes and Aiden Jany scored three points each.
Andrew Schwarting, son of Chester math teacher Mike Schwarting, led Saxony Lutheran with 23 points.
On Jan. 14, DeOndre Martin and Ian Reith scored 20 points each as Chester dominated Shawnee 85-26 in the opening round of the CIT.
Jared Landeros and Jordan Hughes scored eight points each against Shawnee. Eli Hughes scored seven points and Aiden Jany four. Gavin Schroeder and Ethan Stumpe tallied three points each and Koby Jany scored two.