Lady Jackets Second In Carbondale Classic
Destiny Williams Named MVP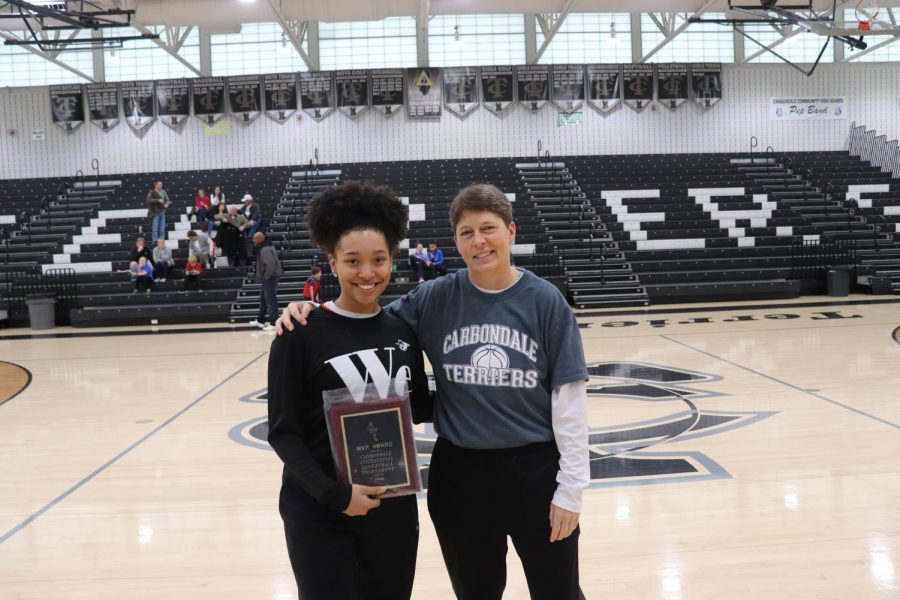 The Chester Lady Jackets went 3-0 in the Carbondale Mid-Winter Classic, but took second on a tiebreaker.
Chester (21-4) outscored Mt. Vernon 22-2 in the fourth quarter on its way to a 65-48 win. McCracken County (Ky.) won the team title on a tiebreaker, as its 67 percent free throw percentage was for four percent higher than Chester's. Chester's Destiny Williams was named the tourney MVP. Reese Chandler was also named to the all-tournament team.
The 21 wins is a team record for the Lady Jackets.
Williams scored 32 points against Mt. Vernon. Kendall Williams tallied 13 points, Trinity Brown seven,
Alyssa Seymour six, Reese Chandler four and Josie Kattenbraker three.
Chester won its 20th game of the season with a 39-37 win over Marion Jan. 23 in the Carbondale Mid-Winter Classic.
Chester extended its winning streak to ten games with the come-from-behind win.
Destiny Williams led Chester with 23 points as the Lady Jackets overcame a 14-point deficit in the first half. Chester trailed in the last minute, but Williams hit a lay-up and three free throws as the Lady Jackets put the game away.
Kendall Williams scored seven points, Josie Kattenbraker five points and Reese Chandler four points.
Chester had a dominating 58-18 win over Carbondale in the first round of the  Carbondale Mid-Winter Classic.
Destiny Williams scored 19 points, Reese Chandler 16 and Kendall Williams ten in the win. Chandler hit four three-pointers and Kendall and Destiny Williams two each. Trinity Brown tallied eight points. Kailyn Absher and Ashlyn Colvis scored two points each and Josie Kattenbraker one point.
Chester beat Christopher 65-32 on Jan. 18 to improve to 3-2 in the Black Diamond Conference. Five Chester players were in double figures. Reese Chandler scored 16, Trinity Brown 14, Kendall Williams 13, Alyssa Seymour ten and Destiny Williams ten. Josie Kattenbraker and Katie Shinabargar had two each.
The Lady Jackets beat Steeleville 48-14 on Jan. 20.