"Hot Lips" Hammel's Birthday Kiss
Teacher Turning 9 On Saturday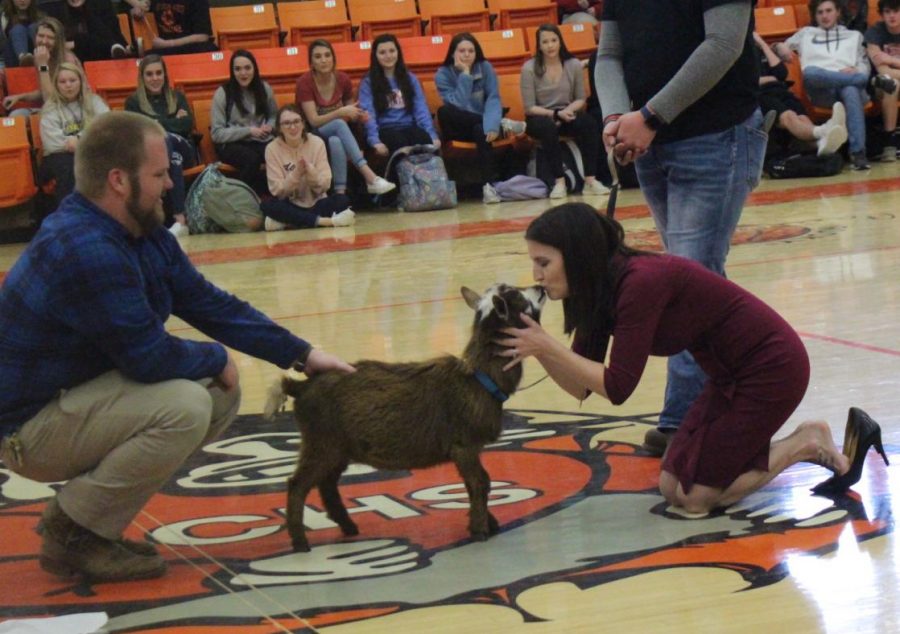 The Chester Future Farmers of America celebrated FFA Week with a number of events, and one helped Mrs. Hammel celebrate her ninth birthday.
The FFA closed out its week with an assembly featuring games, but the highlight came when a "lucky" Chester High School teacher was selected to kiss a goat.
The FFA fundraising event encouraged students and teachers to donate by placing money in jars with teachers' names on them. The teacher that had the most money in their jar by February 27th had to kiss the goat at the assembly that afternoon.
The three teachers collecting the most money were Mr. Cowan, Mr. Colonel and Mrs. Hammel. Mr. Meltzer, FFA adviser, announced that Mrs. Hammel was the winner.
The event raised over $313.94 for a charity of Mrs. Hammel's choice.
Mrs. Hammel was a particularly special winner as she will celebrate her birthday on Feb. 29. As a Leap Day baby, Mrs. Hammel will turn nine Saturday.
Other games played at the assembly were dodge ball and a hay bale toss.
The FFA celebrated 'Merica Monday. Tuesday was Hat day and Ag Awareness Day. Several FFA members gave demonstrations at the grade school Tuesday.
Wednesday was Camo Day and Thursday was Blue & Gold Day.