Pritzker Orders School Closings
Teachers Available 9 a.m.-2 p.m. On Off Days Through Email, Phone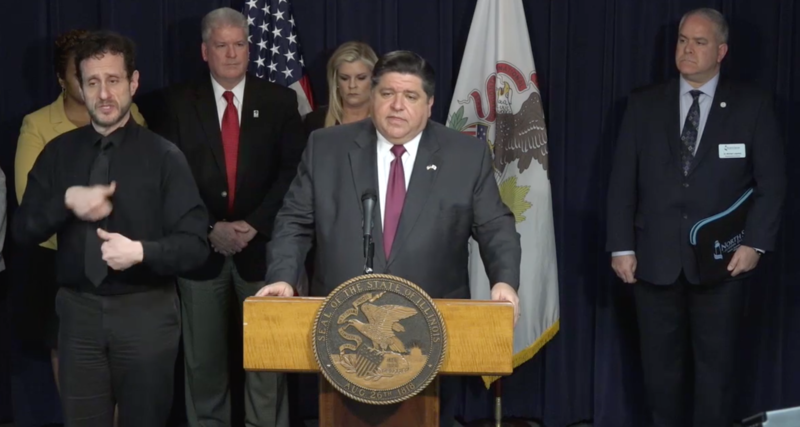 Illinois Governor J.B. Pritzker ordered the closing of Illinois schools from March 17 to March 30 to combat the spread of COVID-19. The school will still be held on March 16 for students to receive assignments. During this time, school activities will also cease.
This announcement follows the Illinois High School Association's canceling of all winter events. This includes journalism, boys' basketball, debate, and music. This announcement means that the Chester High School music department will not be able to compete at the state organizational contest. At this time, the spring concert is to continue as planned.
The spring musical, "Shrek the Musical," has also been postponed. Currently, the show is scheduled for April 30, May 1, May 2, and May 3. All tickets will be honored on the corresponding date.
Chester High School Principal Melissa Meyer said the Chester schools will be in session March 16, with a tentative return day of March 31.
"If your student is absent because he or she is feeling ill or you are concerned about his or her health, it will be an excused absence and will not negatively affect any attendance incentive program," Mrs. Meyer said. "If your child is experiencing any cold or flu symptoms you are to keep them home."
Bag lunch meals will be available for district students, beginning Tuesday, March 17, at the Grade School from 10 a.m. – noon and at the high school from 11 a.m. – 12:30 p.m. Meals are available for pick-up only. Students may pick meals up themselves or have their Parents or Guardians pick up their meals from EITHER single location. Nobody will be allowed inside to eat. Meals for multiple days may be picked up on the same day (limited to 4 total days this week and 5 total days next week) and each bag will include items for breakfast and lunch. At this time, there will be no distribution on Friday, March 20, or Friday, March 27.
Superintendent Brian Passaro has instructed all Unit District 139 faculty to be available by email or phone from 9 am.-2 p..m. on the ten weekdays schools will be closed. Students with questions about take-home assignments can contact their teachers during the closure period.
All extra-curricular events and practices have been postponed until further notice.
Teachers and staff have prepared and distributed curriculum materials for students to have while at home.
"Please encourage your child to work with these materials, so their learning can continue during their time away from school. Although, these materials will not be taken for a grade, we wanted to provide students with every opportunity possible to continue their education. On Monday, students may receive additional materials and continued guidance on how to proceed while using them to learn at home," Mrs. Meyer said.
The Illinois Department of Public Health and the Randolph County Health Departments are insistent that anyone feeling sick with a fever, cough and/or shortness of breath, stay home and CALL his or her doctor. The physician's office will give further direction at that point.
"Through the coming days we will continue to send updates through our phone all-call system and school website," Mrs. Meyer said.
This story will be updated as more information on cancellations come in.