Observation of COVID-19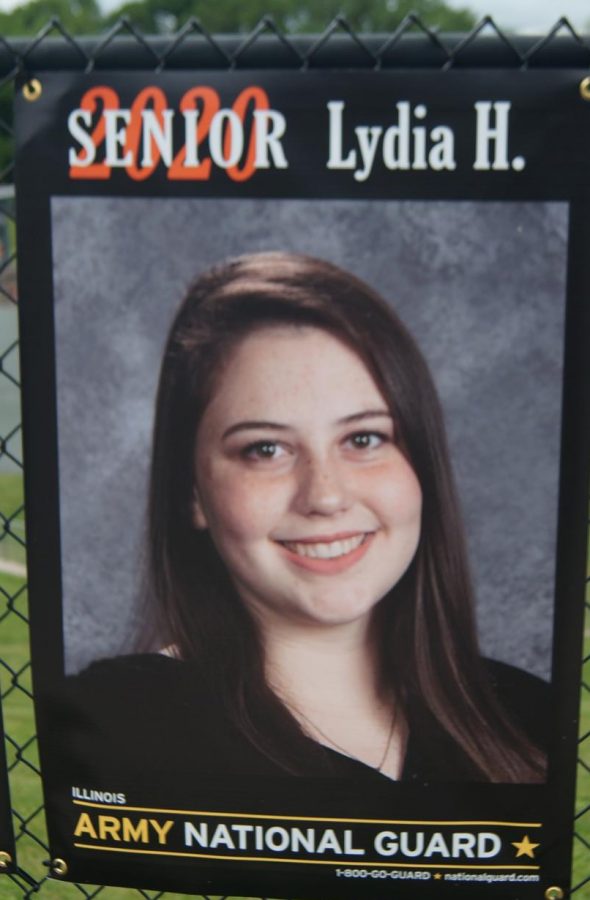 Lydia Heck, Rhetoric & Composition Student
May 13, 2020
On a Friday in March, I, along with some fellow classmates, was attending the musical practice for our production of Shrek. Rumors were going around that a virus had entered the U.S. and was infecting more and more people by the minute. People were told that school and other buildings might shut down for a maximum of two weeks. It sounded so surreal that most people didn't believe this was at all true. Later, the administration had contacted parents and students to alert them of the upcoming temporary shut down. At the time, I was in the process of writing an ethnography for my Rhetoric and Composition class. My next step was to go to church the next Sunday and set up an interview with a priest so that I could gather more information about the Catholic priesthood. But, most non-essential businesses were temporarily closed, including my church. People were told not to travel. Shoppers were told to do their shopping only when necessary. There were to be no gatherings of more than ten people. People did not listen. People traveled, had gatherings, and went to stores for non-essential goods. In only a matter of two weeks, COVID-19 had made its way to Randolph County, IL. Everyone is now under quarantine. Quarantine release dates continued to get pushed back and now the world's future isn't to be determined for a long time. Everyone is currently living in confusion and fear.
Catholics Before COVID-19
I had attended church almost every Sunday of my life until St. Mary's Catholic Church was temporarily shut down from COVID-19. Around January of 2020, I proposed my reasoning for researching the "death" of my religion, Catholicism. I had noticed that the atmosphere of the church changed. I wanted to discover why. I had noticed that people weren't laughing and loving in church. It seemed like a chore to most people who attended. The same people who sat next to me and fell asleep during Mass were posting lots of words about God on social media, primarily Facebook. It seemed that people spoke more about the Lord while behind a screen than in church while being the closest to the Holy Spirit. I believe that while attending Mass, people weren't satisfied with the way the new priests conducted them. In the old days, priests and deacons used their own wisdom and humor to speak to the people. Now, priests seem like they do it to get it over with and move on. The passion for Mass is no longer there. I think now I have learned that people find this passion for social media. Facebook friends share videos of a preacher passionately telling the stories and lessons we should learn from the Bible. That is what truly inspires people. That is what is truly speaking to Catholics.
Catholics During Quarantine
People would definitely be a lot more lonely while staying under quarantine if social media didn't exist. The Internet, in general, is providing lots of access to experiences we lost due to COVID-19. For example, clothing stores are temporarily shut down, but customers still have the opportunity to online shop. Schools are currently shut down, but apps like Zoom and Google Meets are gaining popularity since they can provide a live online classroom. In fact, Rachel Lerman stated that "meet is also booming during coronavirus lockdowns, Google CEO Sundar Pichai said on an analyst call Tuesday. Meet now has 100 million daily users and is adding about 3 million new users each day, executives said." Churches are also temporarily shut down, but priests, pastors, and even church choirs are still able to upload content of their Gospels. These people aren't letting COVID-19 stop them from spreading the word of God. In fact, I believe that many people are growing closer to God during these times. We have lots of alone time to reflect on ourselves with God and truly recognize the importance of his presence during hard circumstances. A Catholic reporter even stated, "reflection and prayer on the Scriptures can be done not only individually, but also as a family or in a virtual community. Parishes should establish virtual communities through Facebook or other social media where the community can share their reflections on the Scriptures" (Spirituality in a Time Of Quarantine"). I think that COVID-19 is having a positive impact on the Catholic church. Although we aren't able to gather together in person at a cathedral and celebrate Christ, each person is individually doing it's part to either pray on its own time or to make these gatherings as real as possible while being virtual.
The Effect of COVID-19 on Chester, IL
When word began to spread about COVID-19, it was scary. Having trust in my fellow citizens of the United States, I believed that COVID-19 wouldn't reach my hometown Chester, Illinois, because people wouldn't travel or disobey the quarantine recommendations. I was wrong. Not only did COVID-19 reach Chester, but we have some of the highest numbers of cases throughout Illinois. Randolph County itself has had over 190 cases and counting (Parker). As soon as Randolph County discovered their two positive cases, health departments took immediate action. "The two new patients have been isolated and are being monitored by the Randolph County Health Department, the Illinois Department of Public Health and local health care workers, the release said. The county health department is working to reach anyone who came into contact with the two individuals. 'An individual confirmed positive for the COVID-19 or is close contact with an individual who is confirmed COVID-19, will be isolated for a period of 14 days unless they require further hospitalization or medical treatment,' the release said. 'The Health Department will be in contact with individuals who are isolated at home and provide additional instructions,'" wrote Hana Muslic.
Chester, Illinois, is home for a manufacturing business, Gilster-Mary Lee Corporation. They have other locations, but the one located in Chester is the home building. The demand rose tremendously. Molly Parker wrote that Gilster's food products such as cereals, soups, and pasta are being highly demanded worldwide, which drives more people into the grocery stores (Parker). Large businesses, especially factories, require large gatherings of people. Anyone can assume that if there is a pandemic spreading, and many people meet up side by side daily, the virus has a higher chance of spreading between those people. That is exactly what happened. "But even as business production ramped up, the manufacturer has also been forced to contend with an outbreak of the virus that affected nearly half of its administrative staff and resulted in the death of its president and chief executive officer, Don Welge" (Parker). I first discovered that Don Welge had passed through Facebook. Everyone was sharing it because he was like a small-town celebrity. I think that it opened people's eyes to the true powers and dangers of COVID-19. Our mayor, Tom Page even agrees. "'It could get to anywhere and everywhere, and it doesn't care what color or how much money you have in your pocket, or whether you live in a big city or a small town,' said Chester Mayor Tom Page. 'It can affect anybody in any given time,'" (Parker). I have even noticed that after his death, essential businesses introduced more strict rules for customers and employees. Now, as one walks into Walmart or Rozier's, more and more people are wearing masks. Every worker is required to wear a mask. On May 1st, the ABC7 Chicago Digital Team announced, "The extended order, which takes effect May 1, aims to ease up on restrictions across the state. However, Illinoisans will be required to wear a face mask in public when social distancing isn't an option." I believe this is a huge step in slowing down the positive case rates and we should have taken this kind of action a lot sooner.
Effect of COVID-19 on My Workplace
I work at McDonald's. I have been employed there since March of 2019. When I had received the news that schools were shutting down for a short period of time due to COVID-19, I assumed McDonald's would be considered a non-essential business and would shut down as well. Sure enough, I continued to go to work as normal and have been doing so ever since. It was shocking to me that McDonald's and other fast-food restaurants were considered essential. I am grateful that I can get out of the house and have social interaction with people other than my immediate family. With social interaction, there also comes risks. Being in close contact with the public every day puts me and my family at high risk for carrying COVID-19. It made me uncomfortable once cases started growing in Randolph County. By then, they had luckily taken lots of safety precautions so that the risk was lower.
In March, I conducted a personal interview with my boss, Ariel Crouch, to get more insight into what was happening to the store from another point of view. I had already known of the new changes that the employees were making, but it was a great experience learning more about the situation from her point of view. During my interview with Crouch, we discussed the changes that were put into place. For example, there is limited usage in the lobby. People may come inside to order carryout, but may not sit and eat inside the store. The store had also closed two hours early to utilize that time to clean and sanitize all touchpoints and other areas throughout the restaurant. Crouch mentioned that there were more changes in the works that were not yet enforced.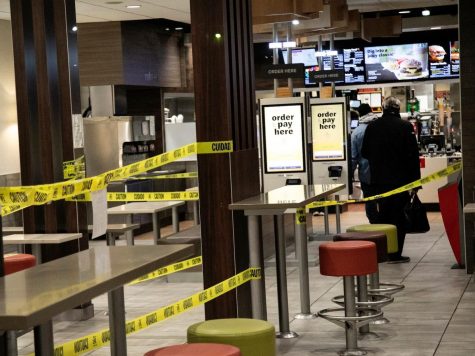 Since the interview, we have made a few more changes that make our work environment safer from COVID-19. Window guards have been installed on our windows. This helps form a barrier between the workers and customers to prevent germs from spreading even more. We try and bring as little into the store as possible. As far as actual cash goes, it's pretty much impossible to not accept it into the building. If a customer pays with a card, we put our card chip reader outside the window so that the card can simply go in, and go back out, without anything being touched. The newest rule that has been enforced is our new mask rule. Every employee must wear a mask at all times wherever it is in the store. Customers are also encouraged to do the same. This was very relieving for me. While working at McDonald's, it is impossible to stay six feet apart from our coworkers. I was already breaking the quarantine rules, but it was my job. Now, I feel much better and safer when going to work. We do close at our normal time again, but we are keeping more people on the clock. These extra people are assigned cleaning jobs to accomplish a deep clean throughout the store. I am not sure what kind of changes there will possibly be in the future. We have just about every base covered. Now, we wait for time to pass.
Crouch and I also went over the attitudes that the employees had towards the virus in the very beginning. When asked how the staff reacted to the virus and the new changes that came along with it, Crouch responded with, "I have numerous employees that went on a leave of absence to keep themselves distanced. I have staff that are worried about bills, how are they going to pay them if they lose hours or if they can't work. I also have staff that continue to work as if nothing's happening. I have staff that try to keep a brave face and keep the morale and positivity in the store up. Most people understand the changes and want to help with them. They know they will keep ourselves as well as our guest sage. No one has refused to do the new changes." I can easily say that the entire staff is still working every day under these rules, and nobody has refused to do the new changes thus far. Everyone can agree that the face masks are absolute sweat factories on our faces and can be quite uncomfortable at times, but we all still understand the danger we are keeping ourselves from. Now that we've made even more changes and requirements, most of the staff feels a lot safer now. People who went on a leave of absence have actually returned. We have also hired lots of new people since our interview. The gaps in our staff are now filled, and we are doing great. At this point, we, as many people, are waiting for time to pass so that we can live normally again.
Works Cited
"How Do You Connect with Your Faith under Coronavirus Self-Quarantine? Take It Online." Los Angeles Times, Los Angeles Times, 27 Mar. 2020, www.latimes.com/california/story/2020-03-27/coronavirus-church-faith-community-online.
Lerman, Rachel. "Big Tech Is Coming for Zoom: Google Makes Video Chatting Service Meet Free." The Washington Post, WP Company, 30 Apr. 2020, www.washingtonpost.com/technology/2020/04/29/google-meet-zoom-competitor/.
Muslic, Hana. "Randolph County Reports First Two Positive Cases of Coronavirus." Bnd, Belleville News-Democrat, 29 Mar. 2020, www.bnd.com/news/coronavirus/article241602811.html.
Parker, Molly. "Rural Randolph County Has One of the Highest COVID-19 Infection Rates in Illinois. Here's What Happened." The Southern, 18 Apr. 2020, thesouthern.com/news/local/rural-randolph-county-has-one-of-the-highest-covid-19-infection-rates-in-illinois-here/article_420278d3-c36d-5fd1-98fe-b8bf6ef369e6.html.
"Spirituality in a Time of Quarantine." National Catholic Reporter, 16 Mar. 2020, www.ncronline.org/news/opinion/signs-times/spirituality-time-quarantine.
Taylor, Kate. "McDonald's Is Working to Secure Masks for Some Workers Following Employee Protests over Anti-Mask Policies." Business Insider, Business Insider, 1 Apr. 2020, www.businessinsider.com/mcdonalds-working-to-secure-masks-for-some-workers-2020-4.
"Top COVID-19 Questions Answered: An Interview with ASM President Robin Patel." American Society for Microbiology, ASM.org, asm.org/Articles/2020/March/Top-COVID-19-Questions,-Answered-An-Interview-with.
Trappe, Renee. "Don Welge, President/CEO of Gilster Mary-Lee Corp., Dies from COVID-19." Benton Evening News, 17 Apr. 2020, www.bentoneveningnews.com/news/20200416/don-welge-presidentceo-of-gilster-mary-lee-corp-dies-from-covid-19.
"Illinois Mask Requirements: New Face Mask Order Changes Mandate amid Coronavirus Pandemic." ABC7 Chicago, 1 May 2020, abc7chicago.com/illinois-face-mask-law-requirement-order-mandate/6132820/.