Ian Reith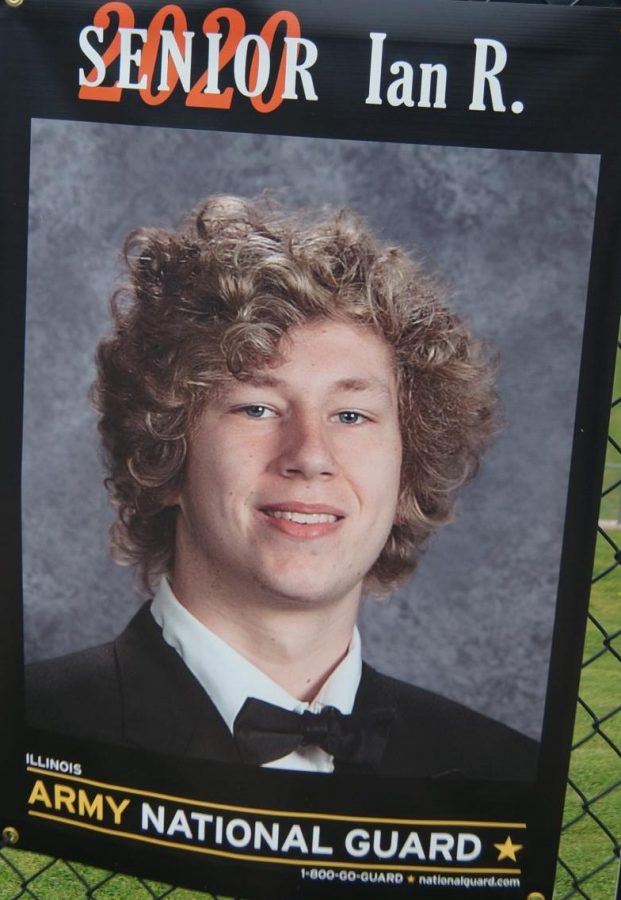 Ian Reith, Rhetoric & Composition Student
May 13, 2020
The coronavirus is a global pandemic that has taken the lives of many people across the globe. This pandemic is the biggest tragedy that my peers and I have been through in our young lives. The coronavirus has proven to be an absolute horrendous pandemic and is arguably bigger than some of the most historic tragedies of all time. When the coronavirus is all said and done, this will rank up there with the Great Depression and 9/11. However, some tragedies such as 9/11 have only affected the United States. This virus is affecting the whole world.
My Experience
The coronavirus is spread throughout a lot of the world and has gotten to the point where it is extremely difficult to contain. With so many people traveling at the beginning of the pandemic, it is not a surprise how fast it got to some countries. As much as everyone would love for this virus to be under control, it has continued to spread. Even throughout Randolph County, the virus is spreading every day. This pandemic is so big that it has required us to be quarantined.
Quarantine has been a real challenge for a lot of people across the world, including myself. The fact that we have been supposed to stay in our own homes for weeks and weeks straight is pretty crazy, in my opinion. However, even though it is a very challenging thing, it is obviously something that needs to happen. No matter how crazy it may be, it makes complete sense. There are many people who do not abide by this.
There are lots of people in this world that do not take quarantine seriously. Lots of people would rather go out and party and do other social activities. These people are not only putting themselves at risk but also their family members and anyone they could potentially be contaminating. This would then lead that person to contaminate more people.
I think most people consider being on quarantine to be boring, including myself. I have not done much besides play Xbox and sleep. That's the main reason that people will leave their homes to go hang out with their friends or whatever they may be doing. But being bored is part of it. It would be a very bad thing for me to go out and get the coronavirus and bring it home to my family. If I were to get the coronavirus and spread it to my family, they could potentially get very ill and also potentially die from it. I do not think that I would be able to live with myself knowing that I was part of the reason one of my family members died. Other people may have other reasons for staying inside. But along with me wanting this pandemic to be over, that is the reason that I am staying indoors.
There are lots of seniors in school who are upset that their senior year has come to an unexpectedly early end. That means less time with friends at school, less time to enjoy their last year of high school. Personally, I do not really care about any of that. For me, it feels like I have been in high school for ten years. I have experienced everything that I have needed in high school, and it is time to move on. I do feel bad for all of the seniors that this pandemic has upset. This premature end to their year is a rough time for them.
I do not play any spring sports, but I feel the worst for the seniors that do. This was most of their last chance to play an organized sport. This was their last chance for them to get exposed to a college coach to play that sport at the next level. I could not imagine not getting the chance to play my favorite sport in my senior year and knowing that I would never get the chance to play that sport again. I feel bad enough for myself because I will not be able to watch any Chester High School baseball games. Having their sports career cut short really sucks for them.
There are people across the world who are losing their jobs due to coronavirus. This pandemic has affected the lives of many people when it comes to their financial status. Making a living is a real struggle for a lot of people at this time. All of the people that are bored from this quarantine due to the coronavirus need to realize that there are bigger problems for other people because of this pandemic. Being bored is just a small price to pay compared to other people who are losing their jobs and not being able to make a living to provide for their families.
Even for a lot of people that have not lost their jobs, their jobs have changed drastically. Whether those people have to strictly work at home or they just have to adapt to their job because the coronavirus has changed the way that their job is performed. I think that there are still lots of people that are still learning how to adapt to the coronavirus. They may still be adapting to the work environment or they may be just adapting to how they lead their everyday lives. If one is used to this pandemic and prepared for it or not, this is the way that we have to have to live for the time being whether we like it or not.
All of us around the world are waiting for this pandemic to end and for everything to go back to the way it was. This pandemic will be talked about for years and years. It will take some time for the world to recover from this, but I do hope and believe everything will go back to how it was before the coronavirus.
Coronavirus General Information
There are different symptoms of coronavirus. Many people have a fever, cough, or sore throat. "Most people infected with the COVID-19 virus will experience mild to moderate respiratory illness and recover without requiring special treatment. Older people and those with underlying medical problems like cardiovascular disease, diabetes, chronic respiratory disease, and cancer are more likely to develop serious illness ("Coronavirus"). It is very important that we social distance to keep older people safe. It is easy to get the virus from someone who already has it. "The COVID-19 virus spreads primarily through droplets of saliva or discharge from the nose when an infected person coughs or sneezes, so it's important that you also practice respiratory etiquette (for example, by coughing into a flexed elbow)" ("Coronavirus"). Keeping our distance in stores and public places is crucial to prevent the spread.
Coronavirus Globally
This pandemic is affecting everyone on the planet. There have been over 3 million cases around the world. "As of Wednesday afternoon, at least 225,300 people have died, and the virus has been detected in at least 177 countries" ("Coronavirus Map"). It is so crazy to think that so many people have died all around the world from this virus. "There is evidence on six continents of sustained transmission of the virus, and the C.D.C. has advised against all non-essential international travel" ("Coronavirus Map"). It is a crazy world we are living in. The disease spread so fast to all different parts of the world. The number of cases is still increasing in many countries, such as Russia, Mexico, India, and many others. In the United States, the U.K, Canada, etc., the number of new cases is mostly staying the same each day. The number of new cases is decreasing in Spain, Italy, Germany, and many other countries.
Not all countries are getting a lot of new cases each day, though. "Some countries are currently experiencing a rapid rise in new cases. In others, the rate of growth has slowed after leaders have instituted nationwide lockdowns, leading to a battered world economy" ("Coronavirus Map"). Even though the lockdowns may be hurting the economy, it is essential to keep everyone safe and at home. "While the outbreak is a serious public health concern, most people who contract the coronavirus do not become seriously ill, and only a small percentage require intensive care. Older people and those with existing health conditions, like heart or lung disease, are at higher risk" ("Coronavirus Map"). Even though people are not showing symptoms, they can still give the virus to someone else who is at risk. This is a very serious disease, so all the precautions that have been taken are very necessary.
Coronavirus in the United States
There have been many cases of coronavirus in the United States. "The number of confirmed coronavirus cases in the United States has topped 1 million and the death toll has surpassed the total of US troop fatalities during the Vietnam War. As of Tuesday evening, there are more than 1,012,000 people in the United States who have or have had the virus, according to a tally from health officials by Johns Hopkins University. At least 58,356 people have died. A total of 58,220 Americans died during the war in Vietnam, where fighting lasted more than 10 years" (Chavez). It is crazy to think more people have died from the coronavirus than in the Vietnam War. "Dr. Anthony Fauci, director of the National Institute of Allergy and Infectious Diseases, said he's almost certain Covid-19 will be here in the winter. 'I'm almost certain it will come back because the virus is so transmissible and it's globally spread,' Fauci said during an Economic Club of Washington webinar. Fauci said the virus will not disappear from the planet because new cases will appear in the Southern Hemisphere during its winter" (Chavez). This is really bad news. It is scary to think that the virus will probably be coming back around. I hope by then there will be a vaccine.
Coronavirus in Randolph County
Randolph County has a lot of cases of the coronavirus. There are 154 cases in Randolph County as of April 28th. Randolph County has the highest number of cases in Southern Illinois. This is really scary to think that the virus is so close to us. We have even had someone in Randolph County die from the coronavirus. It is easy to wonder how we got so many so fast. "Chester — Gilster-Mary Lee Corp.'s food products — staple pantry items such as cereals, soups, pasta, and canned soups — are in high demand worldwide as restaurants have curtailed business in response to COVID-19, driving more people into grocery stores. But even as business production ramped up, the manufacturer has also been forced to contend with an outbreak of the virus that affected nearly half of its administrative staff and resulted in the death of its president and chief executive officer, Don Welge" (Parker). Gilster's has so many employees, so that makes it really bad that the virus is there. "Over the past few weeks, some 50 employees at the company's Chester headquarters either tested positive or were quarantined due to showing possible symptoms of COVID-19, or because they had been around someone in the office with a confirmed case or symptoms, Tom Welge said. He had only been released from isolation due to his own COVID-19 diagnosis for a few days when his father passed away" (Parker). The numbers have only gone up since this article was written. The fact that our small community has so many cases blows my mind. I hope everyone is staying safe and practicing social distancing.
I never thought this disease would become this big of a deal in our world today. When it was on the news in China a couple of months ago, I would have never thought the world would be like it is today. So many people have lost so much. Family members have passed away from this, and many people have lost their jobs and are struggling to make ends meet. Many seniors are heartbroken across the country about not getting one last prom or graduation. Many small businesses are also hurting from this pandemic. This is the time of my life that I will never forget. I will tell my grandchildren about this one day. I hope everyone is staying safe and staying at home. I would be crushed if one of my family members got the virus and was seriously ill.
Works Cited
Chavez, Nicole. "US Coronavirus Cases Surpass 1 Million as Projections Show Deaths Could
Rise in Coming Weeks." CNN, Cable News Network, 28 Apr. 2020, www.cnn.com/2020/04/28/health/us-coronavirus-tuesday/index.html.
"Coronavirus Map: Tracking the Global Outbreak." The New York Times,
The New York Times, 28 Jan. 2020, www.nytimes.com/interactive/2020/world/coronavirus-maps.html.
"Coronavirus." World Health Organization, World Health Organization,
www.who.int/health-topics/coronavirus#tab=tab_1.
Parker, Molly. "Rural Randolph County Has One of the Highest COVID-19 Infection Rates in
Illinois. Here's What Happened." The Southern, 18 Apr. 2020, thesouthern.com/news/local/rural-randolph-county-has-one-of-the-highest-covid-19-infection-rates-in-illinois-here/article_420278d3-c36d-5fd1-98fe-b8bf6ef369e6.html.