Aden's Food Truck
Bacon Cheeseburger
Ingredients:
¾ lb ground beef
½ tablespoon garlic powder
½ tablespoon dried parsley
½ tablespoon salt
½ tablespoon pepper
½ tablespoon paprika
1 tablespoon barbecue sauce
6 strips center cut bacon
3 tablespoons shredded cheddar cheese
1 sesame oil, butter toasted
1 green leaf lettuce
1 slice tomato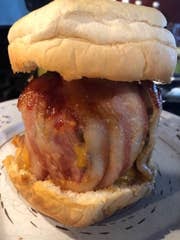 Steps:
In a large bowl, combine the ground beef, garlic powder, parsley, salt, pepper, and paprika.
Brush the ramekin with barbecue sauce. Lay down the bacon strips, rotating clockwise, spacing evenly on the edges.
Place half of the beef patty on top of the bacon.
Press the beef patty evenly into the ramekin, leaving a small divot in the middle.
Place the cheddar cheese in the divot.
Preheat the oven to 425°F (220°C).
Place the second half of the beef patty on top of the cheese and pat to flatten. Lay the ends of the bacon strips over the patty. Brush the remaining barbecue sauce on top.
Place the ramekin on a baking sheet along with the sesame bun, face down.
Bake for 30-45 minutes, or until the bacon is crisp to your liking.
Assemble the burger with the toasted sesame bun, lettuce and tomato.