Girls Medal At Columbia Relays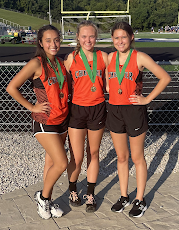 The Chester High School Cross Country team traveled to Columbia to compete at the Columbia Relays Meet on Sept. 1.
The course was a hilly 1.5 miles. Teams were allowed to enter up to 3 boys and 3 girls varsity relay teams composed of 3 runners, and could also enter additional open runners if necessary.
Up first was the girls' team composed of Madi Kribs, Josalynn Anaya, and Maria Nickle. Nickle had the best time of 13:38, Kribs was close behind with a time of 13:54, and Anaya trailed with a time of 16:40. Overall, the girls took 5th place and earned medals.
The boys' team ran second and included Jacob Handel who led with a time of 9:21, Blake Huffman with a time of 11:57, and Will Welge with a time of 14:52. They placed 7th overall in the boy's relay competition.
Chester has yet to have their whole squad together for a meet. Small numbers make competition strictly individual for most meets, but being able to work together and earn a team score at The Columbia Relays meet will be a first and last for the season.