Aden's Food Truck
Ingredients
Sliced Potatoes – Russets work best because of their texture, but you could also use another variety.
Olive Oil, Salt and Pepper
Cheddar Cheese (any other cheese works as well)
Toppings! Crumbled bacon, green onions , or anything you like!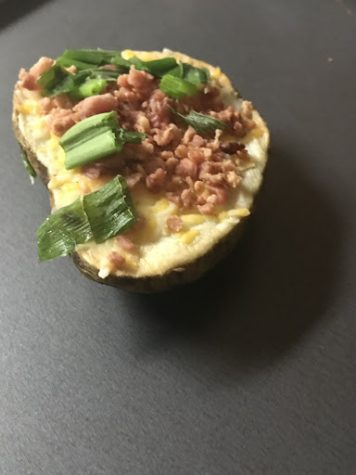 Scrub the potatoes, dry them, and slice them in half. The recipe is written for one pound of potatoes but you can make as many as you like. Just adjust the amount of oil, seasoning, and toppings accordingly.
Next, spread the potato slices on a baking sheet lined with parchment paper for easy cleanup. Brush both sides generously with olive oil and sprinkle with salt and pepper.
Roast the potatoes until they are golden brown and tender, flipping them once after 20 minutes, then baking an additional 5 minutes. They'll look so good already you may have to sample one.
Sprinkle each slice with a little (or a lot) of shredded cheddar and pop them back into the oven for just a couple of minutes to melt the cheese. Top with bacon, and green onions, or any toppings that you want, and serve immediately.