Homecoming Games Return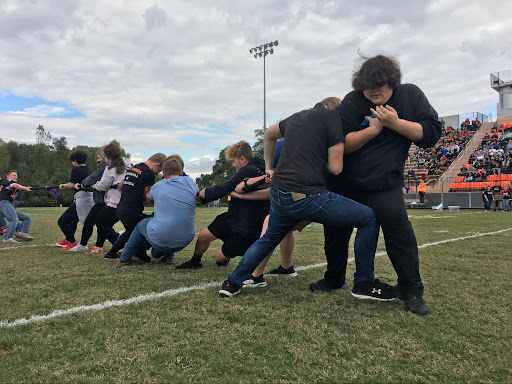 After COVID canceled Chester High School's 2020 Homecoming activities, students enjoyed their first assembly in over a year when the Homecoming Games were held at the football field on Oct. 7.
Events included pumpkin painting, a hay bale toss, tug-of-war and rodeo trivia. In addition, the first-ever crowning of teacher royalty was held. Mrs. Hammel was crowned queen and Mr. Cowan king.
Here are the results from the games.
Apple bobbing:
1st: seniors
2nd: freshman
3rd: sophomore
4th: junior
Rodeo Trivia:
Juniors got questions 1-2, 4 correct. Seniors got question 3 correct.
Bale throwing:
1st: senior Jerald Copple (still reigning and retiring champ)
2nd: freshman Johnathan Jones
3rd: sophomore T. J. Lyons
4th: junior Emma Eggemeyer
Tug of War
1st: freshman (who defeated the sophomores as well as the seniors!!!)
2nd: seniors (who defeated juniors but were defeated by the freshman)
no 3rd/4th place
Pumpkin painting
1st: seniors
2nd: juniors
3rd: sophomores
4th: freshman
OVERALL WINNERS
1st: seniors with 39 pts
2nd: freshman with 30 pts
3rd: juniors with 19 pts
4th: sophomores with 18 pts