Christmas Concert Returns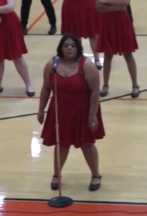 This year's Christmas concert, "Sounds of the Season," was Monday, Dec. 13. The CHS Concert Choir, Sound Affects, and Concert Band performed.
The Concert Choir sang "Mele Kalikimaka," "Somewhere in my Memory" and "White Christmas Medley" with soloists Alex Hennrich, William Smith, Cesar Marquez, and Mirra King.
Sound Affects had 3 songs on their own.
The first was "Mary Did You Know." Ace Smith was soloist on "The Little Drummer Boy."
"Joy to the World " featured soloist Oddessy Flores, accompanied by Abby Bollmann and Kaleb Rehmer.
Concert Band played "Silent Night," "Christmas Eve/ Sarajevo" and "Sleigh Ride."
Last year's concert was canceled due to Covid. The band also collected funds for the Chester Food Pantry.