Will's Retrospect Review: Street Fighter III: 3rd Strike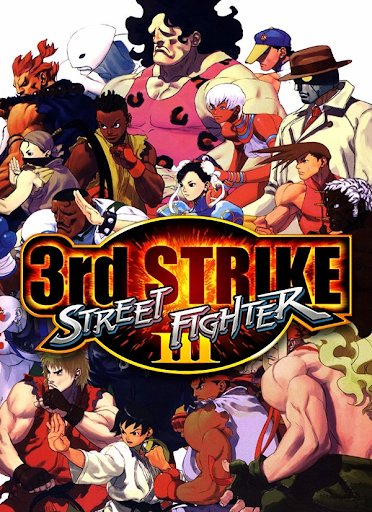 During the '90s, I don't think it would be a stretch to say that fighting games dominated arcades, and the one that stood out more than anything else was Street Fighter II. Street Fighter II practically made the formula for most fighting games we know today and because of the popularity of Street Fighter II, many more versions such as Street Fighter II Turbo, Hyper Street Fighter II, and Ultra Street Fighter II were made. Man, that sure is a lot of Street Fighter II. So anyway, players anticipated the release of the next actual release and actually, Capcom had no plans on making Street Fighter III, but as luck would have it, their wishes would be fulfilled but it wouldn't come without its hardships. It turns out that the lead designer had never made a fighting game before and at this time, arcades were becoming a dying market and due to this, Street Fighter III was not received well when it first came out. But why exactly? Well, let's look into it.
Street Fighter III: Third Strike came out in North America on May 12th, 1999, and plays like most SF games with light, medium, and heavy punches and kicks. You can also throw your opponents forward and backward as well. Street Fighter III: Third Strike also has quarter-circle, half-circle, z-motion, and full circle rotations to do special moves. Along with having special moves, Third Strike also was the first SF game that let you choose your super move and each character has 3 of them. Also included is a meter system, which builds up from landing heavy attacks, landing special moves, or getting hit. Doing a super move costs one bar of meter but you can also enhance one of your special moves for the same price. The gameplay feels very good and you feel amazing when you land even a 3 hit combo. Parrying was also first introduced in Third Strike and It can lead to some insane moments such as the famous Evo Moment #37. The movement feels extremely responsive and you can practically move anywhere you please and a good thing about Third Strike is that most characters, no matter how bad, always have at least one good thing about them. A little thing about the characters though is that there are only 4 returning characters, those being Ryu, Ken, Chun-Li, and Akuma. Everyone else is completely new and it's another reason people didn't like it when it came out. Some of the characters are supposed to be replacements for other characters, such as Hugo taking Zangief's spot as the big-bodied grappler and Necro as a replacement for Dhalsim. The characters that weren't replacements, however, were just really bland or just didn't leave much of an impression at the time and I say at the time because now, a ton of them are fan favorites now. Q is my personal favorite, even though he isn't a great character in this game. The game itself doesn't have much extra content outside of the normal arcade mode and versus mode, except for the minigames in the arcade ladder which have you destroying an SUV in a minute and practicing parrying with Sean's basketballs, and for what it's worth, I think it's really all it needs. Versions of Street Fighter III: Third Strike that have been ported to newer consoles have included online play, which I've played, and though there are some connection issues because of the servers, it still runs fairly well and I've never experienced anything too major that has ruined my experience. Overall, this is an awesome game and it's great to play with friends. I personally wish I would've been alive to play this in arcades when it came out. I give Street Fighter III: Third Strike a 9/10.