Lady Jackets Send Seniors Off In Style
The Chester Lady Jackets honored seniors Alyssa Seymour and Kailyn Absher before their game Feb. 11 at home.
The real celebration was on the floor as Chester doubled up on Sparta, dismantling the Lady Bulldogs 72-36.
Seymour closed out her Colbert Gym career with 30 points and 19 rebounds. Camrynn Howie was also in double figures with 17 points. Rylie Conley netted nine points and Absher eight. Jazzi Merideth contributed four points. Every member of the Chester team scored, with Emma Diskey and Josalynn Anaya scoring two points each.
Chester's season ended Feb. 12 with a 67-36 loss to Belleville Althoff in the regional quarter-final game.
Alyssa Seymour ended her Chester career with 13 points and 13 rebounds. Seymour pulled down 386 rebounds this year and ended with 843 for her career. Both numbers are school records. This season, Seymour recorded 24 double-doubles and averaged 16.5 points and 13.3 rebounds.
Kailyn Absher also closed out her prep career, scoring eight points. Conley scored nine points. Howie had three points and seven assists. Diskey also scored three points.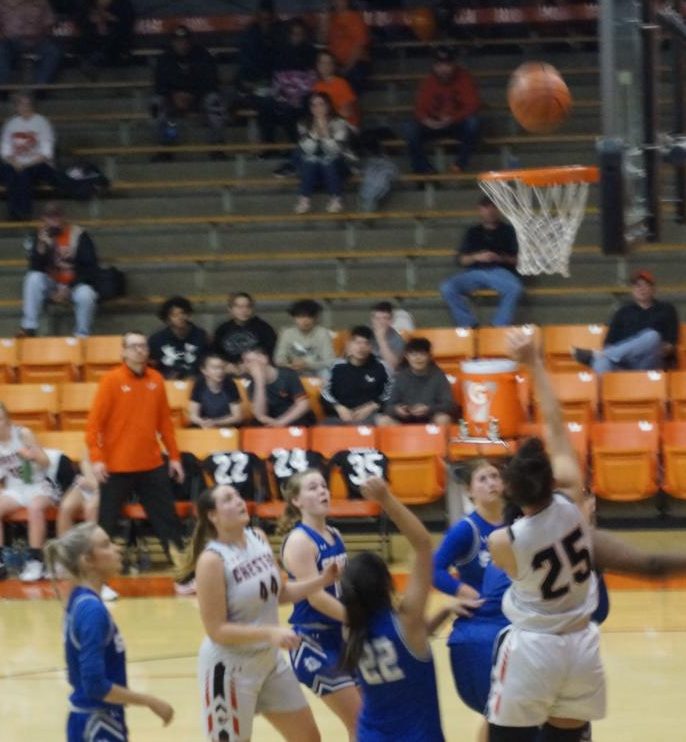 Kailyn Absher (25) scored eight points in the win over Sparta. (Haley Hoskin)