Students Film Video From Own Script
Jacob Copple, Jerald Copple II, Juan Welge, Kaden Freytag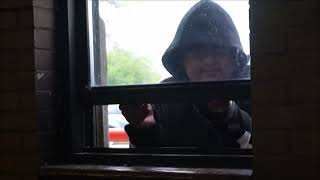 Students in Mr. Springston's Language Arts 4 class wrote scripts recreating scenes from the Frankenstein novel and movie. Not only did Juan Welge, Jacob Copple, Jerald Copple II and Kaden Freytag write this script, they also filmed it in the accompanying video.
_____________
EXT. Graveyard, Canton Ohio – Dusk
Both Victor and Igor hide in the shadows of the trees, waiting for the townsfolk to clear the gravesite so they could take what was buried beneath the earth.
Igor
Hunching over a log
Can we get him now?
Victor
No you fool! If we are caught while getting a body, for what I've worked my life on, will be destroyed in one night!
EXT. Graveyard, Canton Ohio – Dusk
As the townsfolk finally depart from the buried grave, Victor and Igor hustle to claim what is "rightfully" theirs.
Victor and Igor dig and pull the corpse up from the casket.
Igor
(Hunching over the dead corpse)
You're one ugly-
Victor
(Backhanding Igor mid-sentence)
ENOUGH! I will not have my precious work talked downed upon by one of equal structure!
Both pull the dead corpse from its rest and place it in a carrier.
Victor
(Mumbling while carrying the body)
This thing is so heavy, but so MAGNIFICENT!
)In his head)
I love it!
Igor
(Groaning and rolling his eyes)
May as well get a room IF we bring him to life.
Victor
What was that, IGOR?
Igor
Nothing Master..
Victor
OK, Very well.
Cut to:
INT. Castle Frankenstein, Canton, Ohio – dusk
Victor and Igor travel back to the lab at Castle Frankenstein, preparing for what they've spent generations of work on until life threw a curveball at their plans.
Igor
(Hunches nervously towards Victor)
So ah, masta? We have a bit of a problem. Well you see I might of forgotten….well the brain for the creature.
Victor
(Slowly putting down his tools)
WHAT?!…Could you kindly repeat what you just said?
(Inching his way to Igor with a scalpel)
I hope what you said was just some simple, miss-wording. For I thought I heard you say, that you forgot to get a simple, easy, BRAIN!!
Victor
(W/ a crazed smile)
Listen, listen, listen. I ain't gonna kill you Igor (yet). But if I don't see a brain on my table by the time I'm ready, I will personally make you my next LAB RAT!!
Igor runs out in a stumble, desperately searching for a brain.
Cut to:
INT. morgue, Canton, Ohio – Dusk
Igor stumbles until he comes across a Cadaver. He finds an opened window and hops inside. Igor notices two jars of brains sitting on a table, one with green ooze, and one of blue liquid.
Igor
There you are my precious.
(Picks up jar of blue liquid.)
Now to just get you back to Master Frankenstein and-
An alarm rings and startles Igor, causing him to drop the jar.
IGOR
OH BUTTOCKS!
(Looks at the other jar)
Well, you're the last one for the great Doctor. Now not to drop it.
Igor clutches the jar from the table and hauls ass back to Victor.
Cut to:
INT. Castle Frankenstein, Canton, Ohio – dusk
Igor rushes through the door out of breath and winded. He scurries to Victor who is waiting at the table looking at his pocket watch.
Victor
(Talking to himself)
He, better be getting here soon, my patience is running ever so thin.
Igor
(Out of breath, approaching Victor)
Ma..(breathing heavily) Masta I come bearing a gift from Ze Morgue.
Victor
(Turns around slowly)
Ah, my friend Igor. I can see you have the beautiful brain for my precious.
(Takes the jar from Igor)
But do tell me, why is the liquid in this container a green goo?
Igor
Uh. Yes, that. It's a uh.. special brain master. Very unique.
Victor
Hmm.. Oh well. A brain is a brain. If this fails, you know I will kill you after.
Igor
Yes mas-.. wait, what?
Frankenstein prepares to do the impossible.
Victor
(While flipping switches)
Igor! The time has come to bring the dead, to LIFE! Pull the lever!
Igor pulls the switch and the table begins to rise. As it reaches the top, lightning roars in the skies before one hits the rod next to the creature. The table lowers.
Igor
(Peeking from the corner)
Did it work master?
Silence fills the room. The atmosphere grows heavy. Then a finger begins to twitch.
Victor
(Whispering)
Come on you. Come to life.
The hand and arm begin to rise.
Victor
(Extreme excitement and relief)
IT'S ALIVE! IT'S ALIVE! I'VE DONE IT! I'VE DID IT! IT'S ALIVE!
As the hand begins to rise higher, and higher, all of a sudden, it goes limp.
. . . . .
Victor
FU-!!
Victor runs in a frenzy out of the lab. Igor attempting to catch up. Moments later inside the lab, the creature attempts to move again. The creature, however, stumbles over its own feet and falls hard with a thud.
Igor
What was that?
Victor
Huh? What did you here Igo-… it's my creation! We must HURRY NOW!
Victor and Igor rush back into the lab.
Victor
(Maniac Laughing)
The CREATURE! IT'S ALIVE!! YEEEES!!!
The Creature was startled by the loud noise and ran out of the lab in a panic.
Cut TO:
Ext. Fields, Canton, Ohio – Dawn
Victor and Igor went on a chase to catch the Creature and take him back to the lab.
Victor/Igor
COME BACK HERE RIGHT NOW!
The monster runs into the highway.
Victor
(Sobbing like a baby)
NOOOOOO! MY HARD WORK! ALL GONE!!!
Igor
Well there is always next time, right?
Victor turns to look at Igor for a brief moment. Then looks at the camera with a devilish smile.
Igor
Why are you looking at me like that..?
Victor
(Grinning while pulling out a bone saw)
Oh nothing. Just uh, getting more ideas..
END SCENE!