Fundraising

The CHS Baseball team is selling school spirit apparel to the community. Check it out here!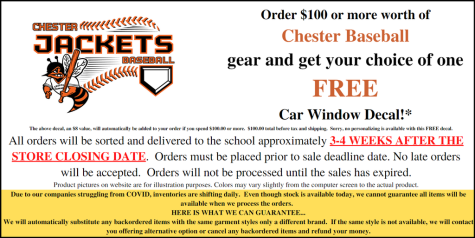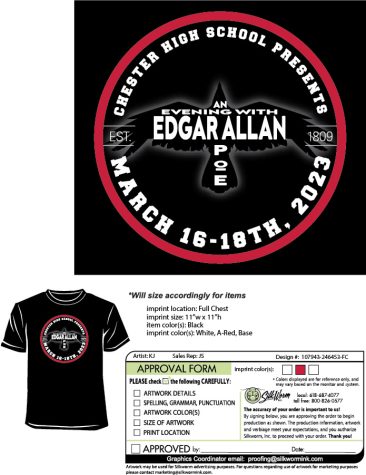 Theater is selling T-Shirts!
Order your CHS Edgar Allen Poe T Shirts Here!
Chester Theater Department wants to put YOUR advertisement in their program
To whom it may concern;
The Chester High School Theater Department is very happy to announce that we are presenting the play An Evening with Edgar Allan Poe on March 16-18, 2023.. We are in search of local businesses that would like to purchase an advertisement in our show night programs. These booklets are passed out to an estimated 500 community members! Advertisements can also be featured on our social media account for no additional cost.
Families are also invited to purchase ad space for a student "shout out." These are a CHS tradition and an opportunity to show your student how proud you are of them! Financial assistance is available – please call Miss Hodge (CHS extension 2105) for more information.
Thank you for any consideration and your continued support towards our program.
Junior Class Selling Apparel
There will be a mandatory class meeting in the cafeteria Jan. 30 during RTI. The Junior class will be selling different types of apparel in order to fund prom! If you are looking for more information, please contact [email protected]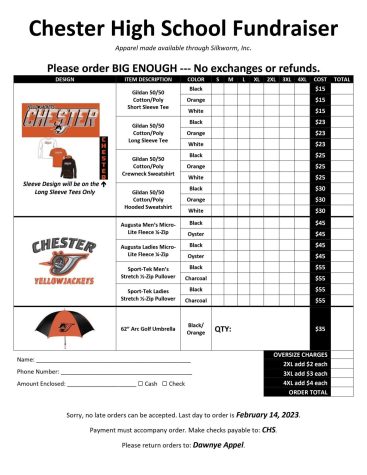 To have YOUR ad/fundraiser on the Sting, contact Mr. Springston ([email protected])