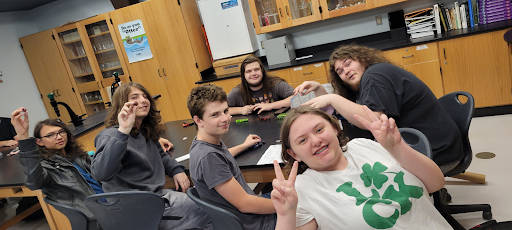 Chester High School is home to a myriad of clubs, organizations, and extracurricular activities for students and the entire school community to take part in. These groups allow students to support themselves and their community and participate in activities that they otherwise couldn't have. If there's something you're interested in, there's probably an extracurricular activity for it. You can play an instrument in the band, keep our planet clean with Green Team, or test your knowledge in the Scholar Bowl. Here's a showcase of every extracurricular activity we have here at CHS.
Art Club
For creative minds, the art club is the perfect group to express their creativity with. Sponsored and run by Mrs. Appel, the art club is responsible for anything related to art at CHS. From painting to pottery, this club has it all for an artist. You can contact Mrs. Appel at [email protected].
Band
The marching band performs at every home football game. They also play in both the Homecoming Parade and the Fall Festival. Directed by Mr. Steve Colonel, the group works with discipline in order to make every performance better than the last. Not only is there a marching band, but there is also a jazz band for those truly passionate about playing an instrument. While you can't join the band, you can still watch them and cheer them on when they perform.
Choir
If you think you have a talent or even just an interest in singing, the choir may be the activity for you. Both the swing choir, which involves both singing and dancing and the concert choir are directed by Mr. Colonel. To learn more, email him at [email protected].
E-Sports
Gaming is one of the most popular activities students take part in outside of school, so it's no surprise that there would be an entire club dedicated to gaming here at CHS. Sponsored and run by Mrs. Appel, the team takes part in many competitions in online video games, including Mario Kart 8, League of Legends, and Super Smash Bros. Ultimate. For more information, contact Mrs. Appel at [email protected].
FCA (Fellowship of Christian Athletes)
For athletes who are dedicated to fitness, the FCA is the perfect thing for them. The Fellowship of Christian Athletes is sponsored by Mr. Wente and Mrs. Krieg. You can contact Mr. Wente at [email protected].
FFA (Future Farmers of America)
Agriculture is a very popular career in Southern Illinois, which makes the FFA a perfect club for those who wish to have a career in that field. Sponsored by Mrs. Millburg, the group gains experience in agriculture and learns how to be hard-working farmers. You can contact Mrs. Millburg at [email protected].
Green Team (Environmental Club)
The Green Team is in charge of recycling and environmental health at CHS. The club works to keep our school and community clean from trash. The group is sponsored by Mrs. Hankins. She can be reached at [email protected].
GSA (Gender Sexuality Alliance)
The GSA is a group and safe space for LGBT+ students of CHS. Members of the club fight for queer rights, and they raise money for LGBT+ charities. The Gender Sexuality Alliance is run and sponsored by Ms. Hodge. Students are welcome to email her for more information at [email protected].
NHS (National Honor Society)
The National Honor Society is a select group of students who go above and beyond in terms of excellence, achievement, and selflessness. Unlike most other groups, you must be selected to join the NHS. Being selected requires hard work, dedication, and a willingness to do good. The organization is run by both Mrs. Durbin and Mrs. Hankins.
Tabletop Gaming
Tabletop gaming is a group sponsored by Mrs. Carroll where the members play games such as Magic: The Gathering and Dungeons & Dragons. You can contact Mrs. Carroll at [email protected].
The Hive
The Hive is CHS's pep club. The group attends sports games and other school activities in order to cheer on the Yellow Jackets. The Hive is sponsored and organized by Mrs. Boyd. For more information, you can email her at [email protected].
Poetry Out Loud (Writer's Circle)
Poetry Out Loud, also known as the writer's circle, is a creative writing group for poetry and other forms of literature. The club is sponsored by Ms. Hodge. If you're interested or need to ask a question, email her at [email protected].
SADD (Students Against Destructive Decisions)
SADD is a club dedicated to ending destructive decisions in our community. The group advocates against drug and alcohol abuse, along with other decisions that harm the well-being of students. The organization is sponsored by Mrs. Boyd. She can be contacted at [email protected].
Scholar Bowl
The Scholar Bowl is a group where students compete to test their knowledge in games of trivia or overall knowledge. This group is organized by Mrs. Hankins. You can reach her at [email protected].
Spanish Club
The Spanish club is focused on studying the Spanish language along with its culture and history. The group is run by Mrs. Zeiger. Students can contact her at [email protected].
Student Council
The Student Council organizes many events at CHS, including homecoming. You must be elected into this group, so you cannot join if you are not already a member. This club is managed by Mrs. Hammel.
The Sting
The Sting is the group that writes in the school newspaper of the same name. They wrote this very article you're reading right now! The club's sponsor is Mrs. Hoskin, and Haley Hoskin is The Sting's editor. You can contact Mrs. Hoskin at [email protected].
Theater
Theater organizes and plays musical shows here at CHS. The actors and stage crew work together to make the show come alive. This group is directed by Mr. Colonel. You can contact him at [email protected] if you have any questions.
And there you have it. Each extracurricular has something to offer, so make sure to try anything that you might be interested in! For more information on each extracurricular activity or club, contact the sponsor of that club.