Experiencing Taylor Swift — Nashville Era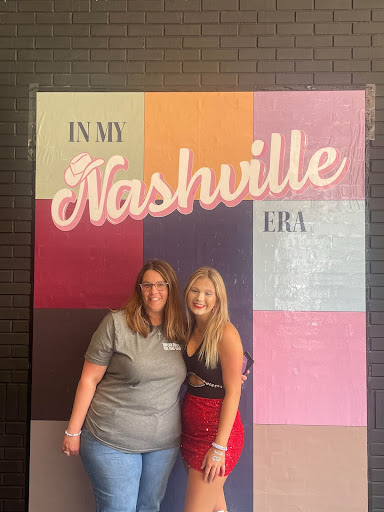 Personal Experience
On Saturday, May 6, my mom and I left the house at 6 a.m. and headed to Nashville, Tennessee, to see Taylor Swift perform in the Eras Tour. It took around four hours to arrive at our first destination, BlueBird Cafe. Blue Bird Cafe was where Taylor Swift started her career and was noticed. The line was over 4 hours long and we did not have that time, so we took some pictures and left.
The next stop was the "Nashville Era" mural painted on 5th & Broadway. The line only took about an hour, but the wait was sooooo worth it. In the line a little girl had approached me and asked to trade friendship bracelets. (Taylor Swift has a song that says, "make the friendship bracelets, take the moment and taste it," so there's a Swiftie project that you make friendship bracelets and trade at your show). I was thrilled because it was my first trade of the day and I made a boatload of bracelets, so I had a lot of trading to do and friends to make. We met a girl in line who lives in St. Louis, ironically, but is from Kansas. She was the sweetest person ever. Once we got our pictures we walked around that area and looked inside the stores.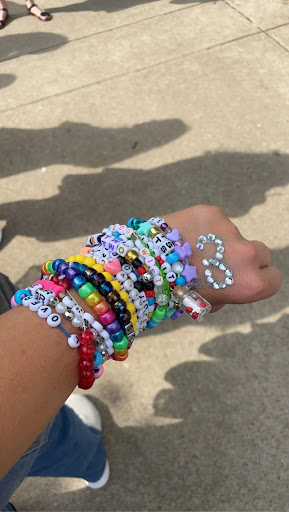 We next arrived at Nissan Stadium around noon. We headed to the merch truck and the lines were allegedly 3-4 hours long, but it only took about an hour to reach the top of the line. My mom and I had split up lines to see which would go faster and my line won. We got our merch and went to the stadium entrance. We met so many cool people in line. I went around and traded so many friendship bracelets during this time. I met someone with the same exact birthday as me and was there for her birthday gift, too, and some people from all over the world.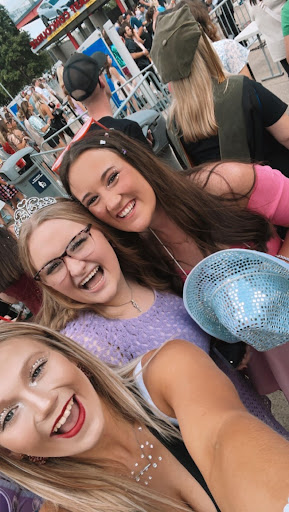 Once we had gotten to the gate we had problems with our tickets, but we got through it all and ended up getting to see the show with a different set of tickets.
Once we got in, we went back to the merch stand to get what was sold out at the other one. Then we got some drinks and then headed up to our seats. We sat next to some very nice people. The one thing we loved about Nashville was we never met one person who had one mean bone.
Our openers were GAYLE and Phoebe Bridgers and they were amazing! Personally, I don't know many songs from them but they were amazing! Taylor Swift took the stage around 8 p.m. She put on a great show and we were so pleased. Our surprise songs were" Out of The Woods" and "Fifteen." "Fifteen" was super special because the high school best friend that it was about was there in the crowd, and that's such a special moment. There were so many famous people there we had to see. We got back to the hotel around midnight and finally went to bed. We woke up the next morning and went shopping and toured some places in Nashville. I would do it all over again.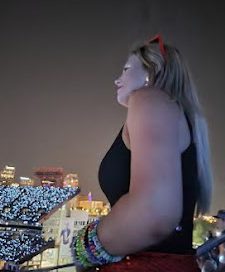 Set List
Cruel Summer- Lover
The Man- Lover
The Archer- Lover
Fearless- Fearless
You Belong with me- Fearless
Love Story- Fearless
Tis the Damn Season- Evermore
Willow- Evermore
Majorie- Evermore
Champagne Problems- Evermore
Tolerate it- Evermore
Are You Ready For It?-Reputation
Delicate- Reputation
Don't blame me- Reputation
Look What You Made Me Do- Reputation
Enchanted- Speak Now
22- Red
We Are Never Getting Back Together- Red
I Knew You Were Trouble- Red
Nothing New-Red ft Phoebe Bridgers
All Too Well (10 Minute Version)- Red
Invisible String- Folklore
Betty-Folklore
Last American Dynasty- Folklore
August-Folklore
Illicit Affairs- Folklore
My Tears Ricochet- Folklore
Cardigan- Folklore
Style-1989
Blank Space-1989
Shake It Off- 1989
Wildest Dreams-1989
Bad Blood-1989
Out of the woods (Guitar surprise song)- 1989
Fifteen (Acoustic surprise song)- Fearless
Lavender Haze- Midnights
Anti-Hero- Midnights
Midnight Rain- Midnights
Vigilante Shit- Midnights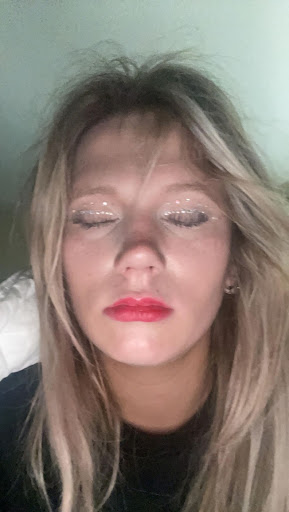 Tips and tricks for the next time
If you plan on going to a Taylor Swift show this summer, I am going to share some tips for you. IF you want to make the best out of this trip, then do everything you can. Buy the pre-party tickets and if there are food places or activities around the city themed Taylor Swift, GO. It is so worth it. We went to where Taylor Swift started everything and went to stores with her theme and we had so much fun. With doing that we met so many different kinds of people. No one ever talks about the social aspect of her concerts. The community is so welcoming and everyone just hands out compliments after compliments. It is so nice to learn people's stories, how they made it there, where they are from, their favorite songs and so many more things you can learn about someone. Talking to so many different people makes your line time so much faster. If you do get there early, yes, you'll be waiting in line for hours but again it is so worth it. Just do something to keep you busy and you're all set. The faster you get to the stadium line, the faster you get into the stadium where you can get more merchandise or first in the bathroom or food lines. Going back to the social aspect of the concert, MAKE THOSE BRACELETS!! It allowed me to go up to so many people and communicate with them and now I have bracelets from all over the country. It was some great memories and some I will cherish forever. If you wear heels or boots or just any uncomfortable shoes, bring slippers or shoes you can throw on because we were up and going for over 12 hours and our feet were DEAD. Everywhere you went you saw people wearing shoes, etc. Also bring water; we were dying because it was super hot and we did not think that one through. IF you are just open and welcoming to have a great time, then no matter where your seats are, you will have a phenomenal time.