Retro Review: Little Shop of Horros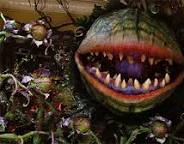 The 1986 movie adaptation of Little Shop of Horrors is definitely in the top six of my favorite musicals and has been for a very long time (ever since I was four years old to be exact.). For managing to stay one of my preferred musicals for so long, Little Shop of Horrors deserves quite a bit of credit. Miles Goodman, the man responsible for the music, is to be thanked for giving audiences songs like "Somewhere That's Green," "Dentist!," and "Mean Green Mother from Outer Space."
First off, the cast is phenomenally constructed with Rick Moranis as the lead character, Seymour Krelborn. Ellen Greene plays the love interest, Audrey and the beautiful voice of Levi Stubbs accompanies the plants himself, Audrey 2. The entire movie is graced with the most ear-catching symphonies that are only amplified by Trichina Arnold, Michelle Weeks, and Trisha Campell's gorgeous back-up singing. Those three women play the role of some-what narrators and sing while looking at the fourth wall. The three also have the most costume changes out of anyone in the movie, and every single one is the most fashionable. Guest star roles for the movie include John Candy as Wink Wilkinson, the radio show host, and Steve Martin as Orin Scrivello, the sadistic dentist and abusive boyfriend to Audrey.
The movie is set to take place in the 1950's on the residentially- despised Skid Row. Skid Row is a slum area that houses all poor people unfortunate enough to end up there. Seymour Krelborn works at a little plant shop that is on the verge of bankruptcy because it too is stuck on Skid Row. Long story short, Seymour finds a strange and unusual plant just sitting amongst the zinnias after a total eclipse of the sun. He buys the plant, for $1.95 and names it Audrey 2 after his coworker Audrey, who he has a crush on. Then it is discovered that the plant can only be sustained by human blood.
It is probably best to leave it at that for fear I spoil anything. As cheesy as it may be, due to this being my first review for the Sting, I am giving this movie a rating of 8/8 stars.