Mikayla's Album-A-Day Challenge 15


Day 99 – Cult Classic by Daisy Grenade
Notes: Underrated. Why haven't I heard about this band before? The sound is full and powerful. The instruments, especially the guitar, are clean and interesting. I love the voice is unique and nice to hear.
Favorite Song: Are You Scared Of Me Yet?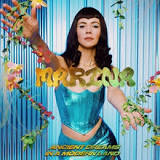 Day 100 – Ancient Dreams In A Modern Land by MARINA
Notes: I love this, but I am very biased as I have become a fan of MARINA. I love her voice, and her lyrics are deep and clever. Great Album.
Favorite Song: Ancient Dreams In A Modern Land

Day 101 – Bleed American by Jimmy Eat World
Notes: Simple. I think it was better than expected, since I haven't heard much from the band besides The Middle. Other songs on the album boosted the likeabilty.
Favorite Song: Sweetnessimage.png


Day 102 – Black Holes and Revelations by Muse
Notes: I like this; similar to their other album I have listened to. Great sound; great guitar.
Favorite Song: Starlight


Day 103 – All Killer, No FIller by Sum 41
Notes: You can tell what genre this is from. Scene music is very copy and paste. This album sounds like basic scene. Good album if you don't know scene too well, but if you know scene music, it isn't worth the listen.
Favorite Song: In Too Deep


Day 104 – Sophomore Slump by Daisy Grenade
Notes: I know this is the second time I listened to this band this week, but I was drawn to listen to this band more after the first album I listened to. I really love this band. The bass lines were way more interesting in this album. The voice and lyrics were great.
Favorite Song: Say It

Day 105 – Liminal by Chase Petra
Notes: I already know this band and this is the last album I hadn't listened to fully. I love it. This band is small but their ability is on par with big names. They always impress me with their lyrical capability and delivery. I love the vocalist especially, as she has such a unique but powerful voice and her control is admirable.
Favorite Song: in an emergency such as the end of the world